'Clean up after yourselves': San Francisco mayor plans to ask homeless nicely not to poo in streets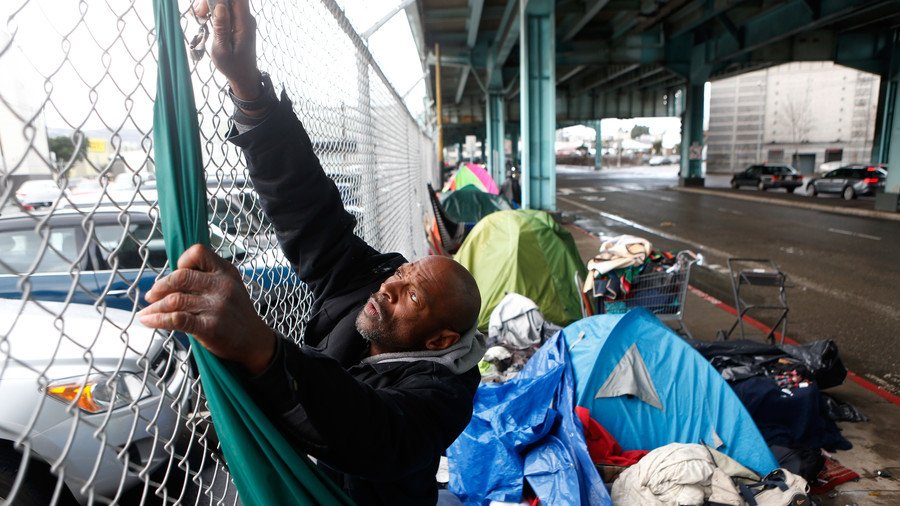 San Francisco's mayor has an idea to stop the homeless pooping in the street: ask them to stop - or to at least clean up. She blames charities for San-Fran's poo-gate, saying they should teach people to "respect the community".
The city is in crisis - vagrants brazenly use drugs on the streets and trash is strewn across footpaths and roads… but watch where you step, as you could also find yourself ankle-deep in human poop. After reports showed that complaints about human feces have doubled in the last three years, the newly-minted mayor, London Breed, pledged to tackle the issue head on - by simply asking the homeless to take more pride in their community.
"There is more feces on the sidewalks than I've ever seen growing up here," Breed told NBC. "That was something that wasn't the norm [when I was growing up]. That is a huge problem and we are not just talking about from dogs — we're talking about from humans."
According to the San Francisco Homeless Count & Survey, 7,499 were classified as homeless in 2017. 68% of respondents reported having health issues - including severe mental health issues, physical disability, and chronic substance abuse.
Breed, who was only just inaugurated as San Francisco's mayor last Wednesday, took aim at anti-homeless charities and advocacy groups that receive money from the city, arguing that they do not do enough for those on the streets.
"I work hard to make sure your programs are funded for the purposes of trying to get these individuals help, and what I am asking you to do is work with your clients and ask them to at least have respect for the community — at least, clean up after themselves and show respect to one another and people in the neighborhood," Breed said.
San Francisco spent $275 million on homelessness services and resources in the last fiscal year - with spending projected to reach an eye watering $305 million in the next 12 months.
READ MORE: Suit-wearing man lashes out in unprovoked sidewalk attack (VIDEO)
The new mayor denied that there would be harsher penalties for vagrants caught using the footpath as a toilet - but did pledge that San Francisco would have visibly cleaner streets within the first three months of her administration. She did not disclose how she would achieve that goal.
"We have to make sure that people who live here - sadly, people who are homeless here - are also held accountable for taking care of our streets. This is our home."
Think your friends would be interested? Share this story!
You can share this story on social media: