Suit-wearing man lashes out in unprovoked sidewalk attack (VIDEO)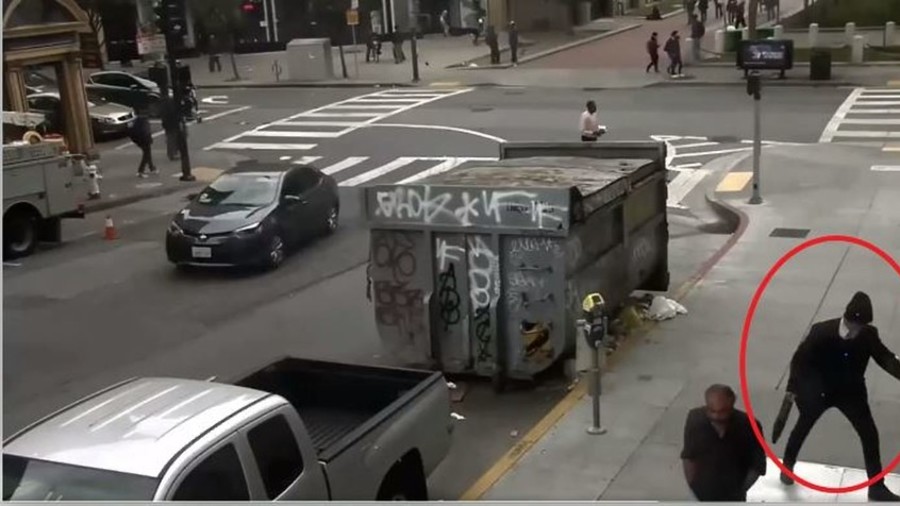 Shocking footage of a well-dressed man kicking a person lying on a San Francisco sidewalk has been released by police as they seek the public's help in identifying the suspect.
San Francisco Police Department released surveillance footage, Thursday, of the aggravated assault which happened in the city's Tenderloin neighborhood, along Leavenworth Street, on May 24.
READ MORE: Zombie knife-wielding man attacks car on busy London street in terrifying footage (VIDEO)
Police say the attack, apparently on a homeless person, is believed to be unprovoked and are appealing for anyone who can identify the suited suspect to come forward.
Tenderloin Station is seeking your help to identify this aggravated assault suspect. Anyone who knows who this man is should call (415)575-4444 and reference SFPD case 180387174. Warning: Graphic Video pic.twitter.com/R30PSEXvCk

— SFPD Tenderloin (@SFPDTenderloin) June 7, 2018
The footage shows the suspect before and after the assault. First coming into focus walking, wearing a dark beanie, a suit jacket and a tie. He's also carrying a briefcase and appears to be speaking on a cell phone shortly before the attack.
Initially he pauses near the victim and then crosses the road away from the prone man. However he returns to where the man is lying on the sidewalk. Before approaching him he waits briefly behind a dumpster. He then walks straight up to the man, kicks him twice, before apparently making a brief remark and walking away.
Think your friends would be interested? Share this story!