'This goes 140mph!' Arizona lawmaker brags to cop about speeding & his state immunity (VIDEO)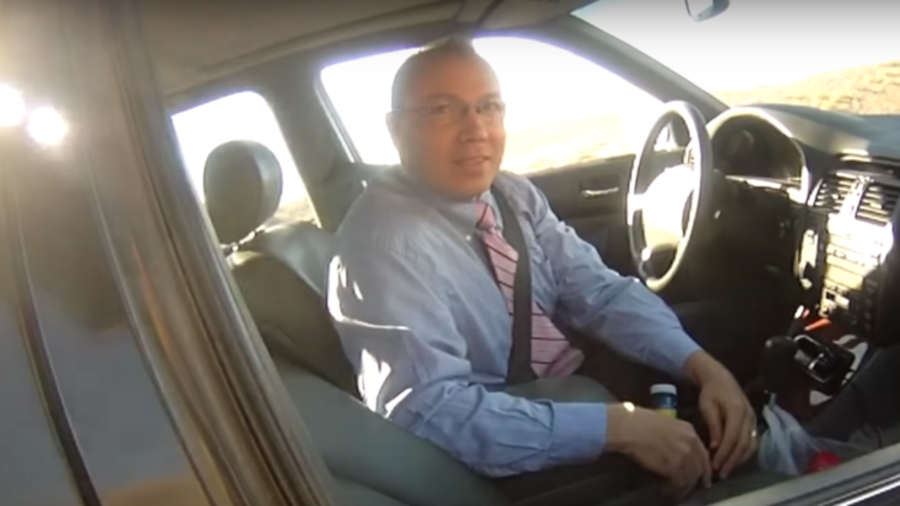 Driving at 140mph is, it seems, an acceptable speed for an Arizona lawmaker to cruise home to his wife and seven kids. Abusing his statewide immunity, Paul Mosley was filmed bragging to a cop about his high-speed adventures.
"I go 130, 140, 120. I come down I-10, I was going 120 almost, you know, if there was no traffic," Mosley, a Republican member of the Arizona House of Representatives told the officer, after being stopped for speeding, body cam footage obtained by ParkerLiveOnline shows.
Initially pulled over just north of Parker, AZ, for doing 97mph in a 55 zone, Mosley tried to evade the harsh hand of the law by waiving his legislative ID at the La Paz County Sheriff's Deputy, claiming he is immune from prosecution.
"I informed Mosley that 97 mph in a 55mph zone is considered criminal speed. Mosley stated he was just in a hurry to get home to surprise his family in Lake Havasu City, Arizona," the deputy's report of the accident read. "Mosley also told me that I should just let him go and that I shouldn't waste any more of my time dealing with him due to his immunity as a government official."
After checking the official's Driver's License, the officer cautioned Mosley against speeding. Instead of just hitting the road, Mosley begins bragging about how fast he usually goes on his new Lexus LS 400, which he was 'forced' to buy while his Toyota Prius was being fixed.
"This goes 140. That's what I like about it," the state representative is heard telling the officer, to which the deputy replied, "The, purpose? You just can, so you do?"
"Well, no, it's, it's, like, I'm trying to surprise my wife, ... as long as it's, you know, as long as it's safe, but… I don't even notice that I'm going very fast because of this, you know, car just, you know, nice wheels, nice, you know, suspension, but… Yeah I mean, I don't, I don't break the law because I can," Mosley replied.
Amid the exchange where the official asks the cop if he has EVER reached those speeds, the deputy replied, "Well your logic is flawed for me. I see too many accidents. That's, that's not safe."
"Seeing that my conversation about safe driving was going nowhere," the deputy later wrote in his report, "Mosley was allowed to continue on his way without incident."
After the publication of the video, authorities began looking into the matter. According to Arizona state law, the legislative immunity shields the official from the law in traffic cases. "Members of the legislature shall be privileged from arrest in all cases except treason, felony, and breach of the peace, and they shall not be subject to any civil process during the session of the legislature," Article IV reads.
Mosley meanwhile issued a statement on Thursday, apologizing to his constituents and law enforcement about his driving habits.
"My desire to get home to see my family does not justify how fast I was speeding nor my reference to legislative immunity when being pulled over. Legislative immunity is a serious responsibility and should not be taken lightly or abused," he wrote on Facebook. "In addition, my jokes about frequently driving over 100 miles per hour during my 3-hour commute to and from the capitol were entirely inappropriate and showed extremely bad judgement on my part, for which I am truly sorry."
Think your friends would be interested? Share this story!
You can share this story on social media: