Trump 'confident' that Kim Jong-un will 'honor our contract and handshake'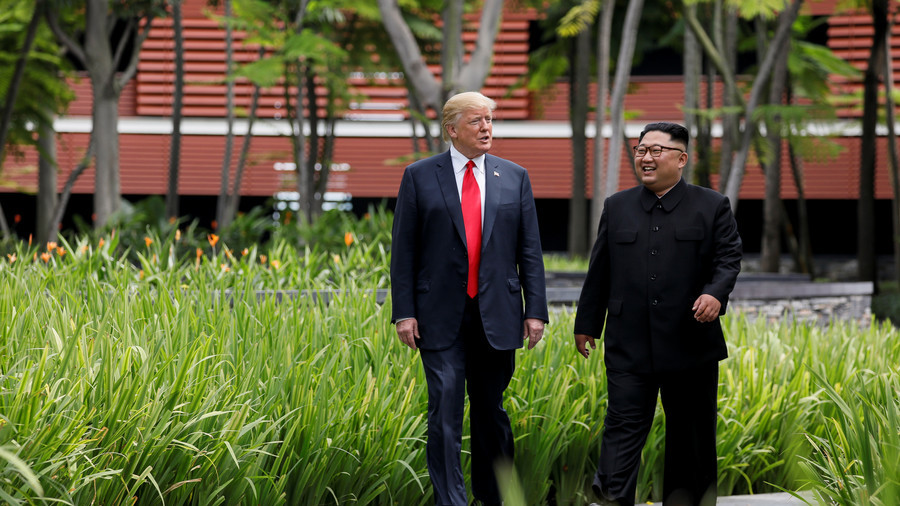 US President Donald Trump says he is confident that North Korean leader Kim Jong-un will honor agreements made when the two men met in June, but said that China may be exerting "negative pressure" on the deal.
The timing of the positive tweet from Trump is somewhat unusual given that it comes just days after Pyongyang expressed unhappiness with Washington's demands regarding the denuclearization of the Korean peninsula.
I have confidence that Kim Jong Un will honor the contract we signed &, even more importantly, our handshake. We agreed to the denuclearization of North Korea. China, on the other hand, may be exerting negative pressure on a deal because of our posture on Chinese Trade-Hope Not!

— Donald J. Trump (@realDonaldTrump) July 9, 2018
North Korean officials have complained about US demands for "unilateral" and forced denuclearization and a North Korean Foreign Ministry spokesperson said that the US was "fatally mistaken" if it believed that his country would accept demands that reflected a "gangster-like mindset".
Trump appeared to place the blame for Pyongyang's tough words at Beijing's doorstep, however. China, he wrote, "may be exerting negative pressure on a deal because of our posture on Chinese Trade" — but added that he hoped this was not the case.
New US tariffs of 25 percent on Chinese imports worth $34 billion came into effect last Friday and tariffs on a further $16 billion in Chinese goods are set to take effect in about two weeks. Beijing responded by imposing reciprocal measures on US-imported goods, but Trump said the US would consider targeting up to $500 billion of Chinese imports, if Beijing continued to retaliate.
On Sunday, US Secretary of State Mike Pompeo said that US sanctions on North Korea would not be lifted until denuclearization had been "verified" fully, but said that Pyongyang had "reaffirmed its commitment" to denuclearization, including promises to destroy a missile engine test site, during his two-day visit to the country for high-level talks. He too shrugged off Pyongyang's less enthusiastic rhetoric about the ongoing negotiations.
So far, Trump has honored the commitment made to Kim that the US would temporarily halt military exercises with South Korea in the region, much to the disappointment of some lawmakers in Washington.