UK officials show contempt for what voters love by ditching World Cup in Russia – John Pilger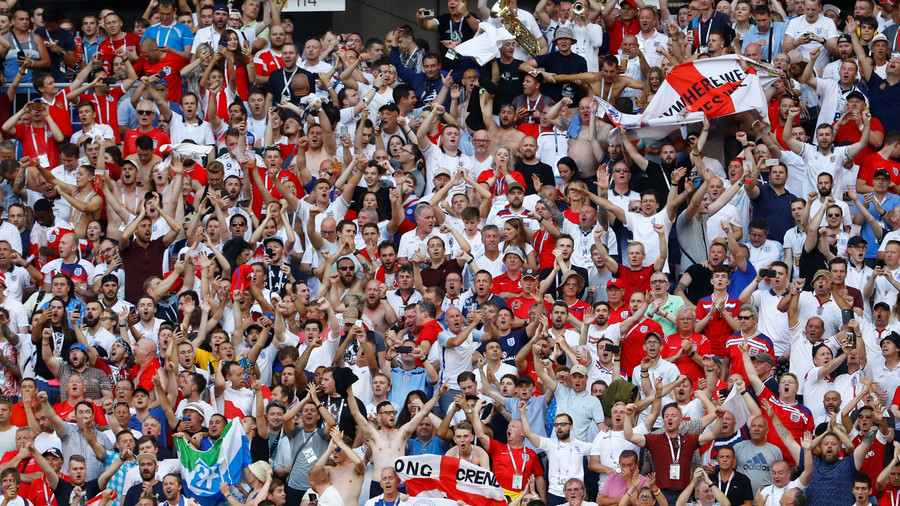 Award-winning journalist and filmmaker John Pilger has blasted British politicians for refusing to attend World Cup matches in Russia, as the national team makes a historic run in the tournament.
"Not a single UK official was in the stadium to see England's magnificent win v Sweden," Pilger, whose documentary work earned him many prestigious awards, including multiple BAFTA honors, tweeted on Saturday. "It's as if those who take the people's votes to assume power over them have utter contempt for what they care about, as well as for the truth."
Pilger criticized not only the ruling Tories but also Labour Party chief Jeremy Corbyn, who – despite being an outspoken leader of the opposition – fell into line with the government in shunning the World Cup.
Not a single UK official was in the stadium to see England's magnificent win v Sweden. It's as if those who take the people's votes to assume power over them have utter contempt for what they care about, as well as for the truth. That includes a craven Opposition @jeremycorbyn

— John Pilger (@johnpilger) July 7, 2018
Fans were indeed ecstatic when England's team made it to the semi-finals by beating Sweden on July 7. A week earlier, the Three Lions defeated Colombia in a dramatic penalty shootout. Both victories were hailed as 'historic' at home and abroad, because England hasn't made it this far in the World Cup in almost 30 years. Even the royal family described England's run as "incredible."
However, none of the UK officials were at the stadiums to watch their team win or to celebrate its victories with English fans in Russia. British politicians decided to skip the World Cup for political reasons, with Foreign Secretary Boris Johnson going as far as comparing the tournament in Russia to the 1936 Olympics hosted by Nazi Germany.
Johnson eventually softened his tune, clarifying that the government "has no desire to punish English fans" for traveling to Russia, and is not planning "to try to get a boycott from the England team."
READ MORE: Comparing Russia to Nazi Germany is 'disgusting' – Kremlin on Johnson's 'Hitler' remarks
The sentiment against the World Cup is shared by members of parliament, both Tories and Labour alike, who called for the tournament to be boycotted.
Tory MP Tom Tugendhat, who heads the Foreign Affairs Committee, said that senior British officials as well as royals would not go to Russia because they don't want to make a "political endorsement of the Putin regime." His Labour colleague Stephen Kinnock urged the government to ask FIFA to postpone the tournament until 2019 and hold it "in a more appropriate host country or countries."

In stark contrast to the UK approach, some other nations opted to put aside their differences with Moscow and separate sports from politics. King of Spain Felipe VI traveled to cheer for his team against Portugal in the Russian city of Sochi, and later attended the Spaniards' match against the hosts in Moscow. Despite Spain losing the match, the king met the players and the manager afterwards.
Croatia's President Kolinda Grabar-Kitarovic also flew to Russia twice to support the national team in the knockout stage. She was so thrilled to see Croatia beat Denmark and then Russia that she posted video of herself celebrating and hugging every player in the winning squad.

When Sweden was up against England in the quarter-final, the nation's Foreign Minister Margot Wallstrom announced that Stockholm will no longer be supporting the boycott of the games. "We're in another situation now. Football should be something that unites," she told the Swedish media.
Among the other high-profile figures who came to Russia to enjoy the atmosphere and to root for their teams were Japanese Princess Hisako and Saudi Crown Prince Mohammad bin Salman.
READ MORE: Football the winner, scoundrels the losers': England fans berate Boris Johnson after World Cup win
English fans have been praising the hosts for their hospitality and berating British officials for not only failing to show up themselves, but also for discouraging ordinary fans from going to Russia. As for the Russians, the embassy in London told the Guardian that "everyone" is still welcome to attend the tournament if they wish to do so.
Back from 2 weeks in Russia alive.I wasn't attacked by blood thirsty hooligans, I wasn't eaten by a bear & I haven't been poisoned or killed.The British media should be ashamed of themselves for their clear propaganda against the Russian people. Absolutely class country 🇷🇺 pic.twitter.com/83sZwjp8Kn

— Matt Maybury 🇬🇧🏴󠁧󠁢󠁥󠁮󠁧󠁿 (@ChezzerMaybury) June 29, 2018
On Wednesday, England will meet Croatia in Moscow to decide which of the two will qualify for the World Cup final on July 15.
Think your friends would be interested? Share this story!
You can share this story on social media: