'Prove you're an Indian': Trump makes $1mn DNA test offer to Elizabeth Warren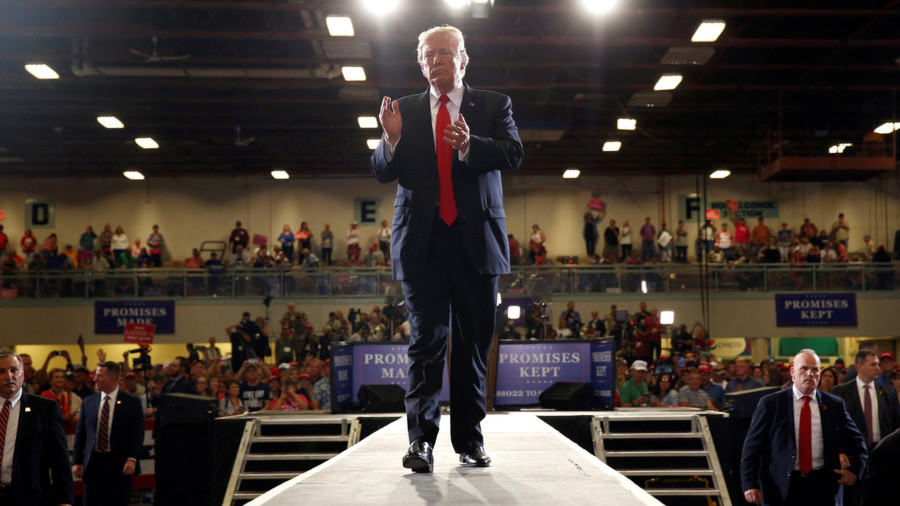 The internet has gone into meltdown after Donald Trump told a rally he will donate $1 million to Senator Elizabeth Warren's favorite charity if she will take a DNA test proving her Native American heritage.
In a wide-ranging speech in Montana on Thursday night, Trump appeared to mock the #MeToo movement and again referred to Warren as 'Pocahontas,' a reference to the Native American woman known for association with a colonial settlement in Virginia in the 17th century.
READ MORE: Lyin', Crazy, Wacky, Sloppy: Trump's nicknames keep on coming
Raising the prospect of a debate against Warren, a leading Democratic critic of Trump who listed herself as Native American earlier in her career based on anecdotal evidence provided by her parents, Trump said he would begin by throwing her a DNA testing kit.
READ MORE: 'Sexist smear': Trump's war of words with senator sparks allegations of sexism from Democrats
"In the middle of the debate, when she proclaims that she is of Indian heritage because her mother said she has high cheekbones, we will take that little kit – we have to do it gently, because we're in the #MeToo generation – and we will slowly toss it, hoping it doesn't hit her and injure her arm," Trump told the cheering crowd.
"And I will say: 'I will give you a million dollars to your favorite charity, paid for by Trump, if you take the test that proves you're an Indian.'"
READ MORE: Trump calls out 'Pocahontas' while honoring WWII Navajo code talkers
Trump has come under fire for referring to Warren as Pocahontas in the past. He first debuted the put-down during the 2016 presidential election and repeated it once again in November last year during a White House event to honor Navajo code talkers from World War II. Native American leaders highlighted the president's attacks as an example of his "deep-rooted ignorance of Native Americans."
Warren responded to Trump on Twitter. Referencing the number of children still separated from their parents on the US-Mexico border, she said the president should concentrate "on fixing the lives you're destroying."
Some commentators felt that Trump's remarks show his fear of Warren in the 2020 presidential elections, while others echoed Warren's concern for the separated migrant children.
However numerous commenters also offered their support for the president's remarks and called on Warren to rise to his challenge.
Like this story? Share it with a friend!
You can share this story on social media: