Trump calls out 'Pocahontas' while honoring WWII Navajo code talkers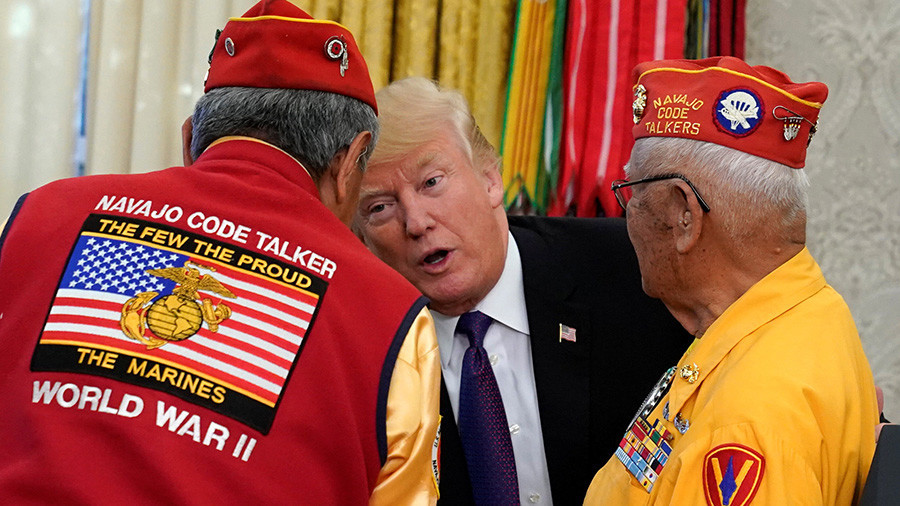 President Donald Trump ruffled some feathers by once again referring to Democratic Senator Elizabeth Warren as "Pocahontas." He did so at a White House ceremony honoring the WW2 Navajo code talkers, prompting accusations of racism and insensitivity.
Trump honored three Native Americans, all in their 90s, who helped the US Marine Corps develop a secret code using the Navajo language during the Second World War.
"I just want to thank you because you're very, very special people. You were here long before any of us were here," Trump said. "Although we have a representative in Congress who, they say, was here a long time ago. They call her Pocahontas."
Turning to the veterans, Trump added, "But, do you know what? I like you."
The president's critics took this as a reference to Senator Elizabeth Warren (D-Massachusetts), who controversially claimed Native American heritage in her earlier career as a college professor.
During the event, Trump also referred to White House chief of staff John Kelly as "Chief," and stood under the portrait of President Andrew Jackson, who signed the Indian Removal Act in 1830, ordering the forcible relocation of Native tribes to present-day Oklahoma. The Navajo lands are in present-day Arizona and New Mexico.
The Twittersphere was not amused.
Trump's nickname for Warren "smacks of racism," John Norwood, general secretary of the Alliance of Colonial Era Tribes, told NBC News. "The reference is using a historic American Indian figure as a derogatory insult and that's insulting to all American Indians."
Norwood added that the president should "stop using our historical people of significance as a racial slur against one of his opponents."
White House press secretary Sarah Huckabee Sanders took issue with reporters who characterized the remark as a racial slur during the daily press briefing on Monday afternoon.
"I think what most people find offensive is Senator Warren lying about her heritage to advance her career," Sanders told reporters.
Trump has repeatedly used the nickname to mock Warren, specifically her claims of Native American heritage during her time at Harvard Law School in the 1990s. Warren has recently clashed with Trump over the Consumer Financial Protection Bureau. She was one of the driving forces behind the agency's establishment under the Obama administration.
The agency is currently run by dueling directors, after Trump and the outgoing director both appointed people to run the consumer watchdog. Warren is also rumored to be a contender for the Democratic presidential nomination in 2020.
Pocahontas was an important historical figure, romanticized in the 1995 Disney animated feature. She was the daughter of Powhatan, the chief of a network of tribal nations in the territory called Tsenacommacah, today part of Virginia and Maryland. She was captured by English colonists in 1613 and held for ransom. During her captivity, she converted to Christianity and married a tobacco planter.
Pocahontas was presented to British society in 1616 and became a celebrity. She died the following year, of unknown causes, and was buried in England. Numerous landmarks and products in the United States have been named after her.