'I'll rip your eyes out and skull f*ck you' – Texas man charged with threats to the press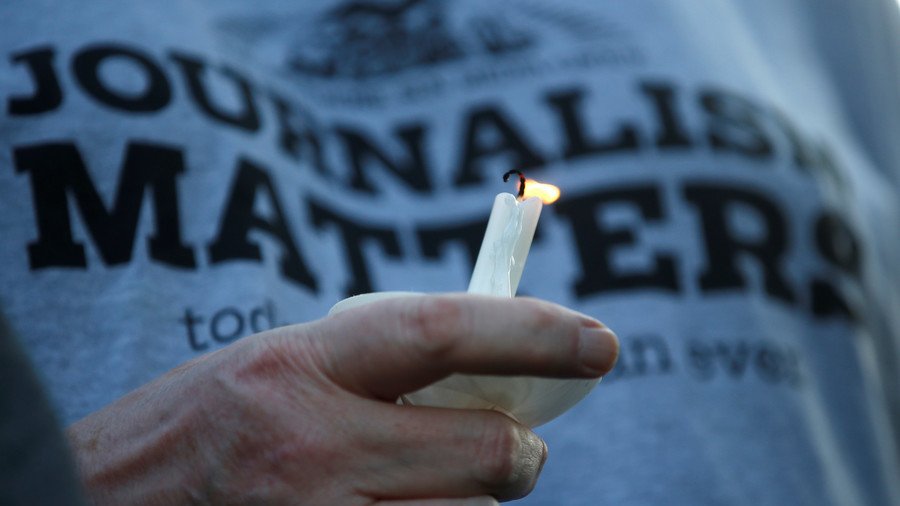 A Texas man has been charged after threatening a TV station, calling the station's manager "a dead man walking." He's been on the run for months and his indictment was sealed until recently.
After three months on the run, 47-year-old Jason Eric Bewley of Bryan, Texas, was picked up by police near Charlotte, North Carolina, on June 22. His extradition to Texas was set to take place last Thursday - the same day as the fatal shooting in the Annapolis newsroom.
He has been charged with transmitting threats through interstate communications, which is a federal crime.
Bewley's threats were directed at KBTX, a television station in his hometown of Bryan. According to an indictment, dated April 11 and only recently unsealed by the courts, Bewley's harassment campaign against the station began over a year ago.
"It's too bad you're a dead man walking," Bewley allegedly emailed station manager Mike Wright in May 2017. "I will split your skull open Mike Wright KBTX," he continued.
Bewley then unleashed a tirade of foul-mouthed abuse at a KBTX staffer over the phone, threatening to "come down there and rip your eyes out and skull f*ck you," and "burn the f*cking building to the ground."
"I'll burn the f–king building to the ground": Jason Eric Bewley faces charges for alleged threats to a TV station. The court date comes just days after five journalists were killed during a shooting at the office of the Capital Gazette https://t.co/InGYxLUQobpic.twitter.com/QZcLRVru3U

— Law & Crime (@lawcrimenews) July 3, 2018
Bewley has a long history with KBTX and local media in general. He was arrested in October 2008 for throwing a cinder block through a window at the station and verbally abusing staffers in the parking lot. That same week, he allegedly caused a minor disturbance at the newsroom of a local paper and at the local District Attorney's office.
Bewley's history of threats and abuse towards the media bears a shocking similarity to that of Jarrod Ramos, who went on a murderous rampage at the newsroom of the Capital Gazette in Annapolis, Maryland, last Friday.
After years of warnings and ignored Twitter threats, Ramos blasted through the glass entrance to the newsroom with a pump-action shotgun on Thursday, opening fire as staff crawled under desks to hide. Police were on the scene within minutes and Ramos was arrested and taken into custody – but not before he succeeded in killing five people.
Ramos' beef with the Gazette was personal. The killer harbored a grudge against the paper since it covered a criminal harassment case he was convicted of in 2011. Ramos threatened the paper's publisher, who, at one point, warned his wife "this guy could really hurt us." The woman Ramos stalked in the 2011 harassment case also warned police that Ramos was a "f*cking nut job," adding he "will be your next mass shooter."
The newspaper had the opportunity to press charges against Ramos in 2013 but declined to do so, and police say that Ramos spent some time planning his "targeted" attack. As Ramos plotted his violent revenge against the Gazette, an indictment full of similar threats by a similarly deranged man lay sealed in a Texas court.
Bewley in now in the process of being extradited to Texas, where he will appear before a federal court on Friday. Ramos is being held without bail in Maryland, where he faces five counts of first-degree murder.
You can share this story on social media: