Future US teachers biased against black kids even before lessons begin – survey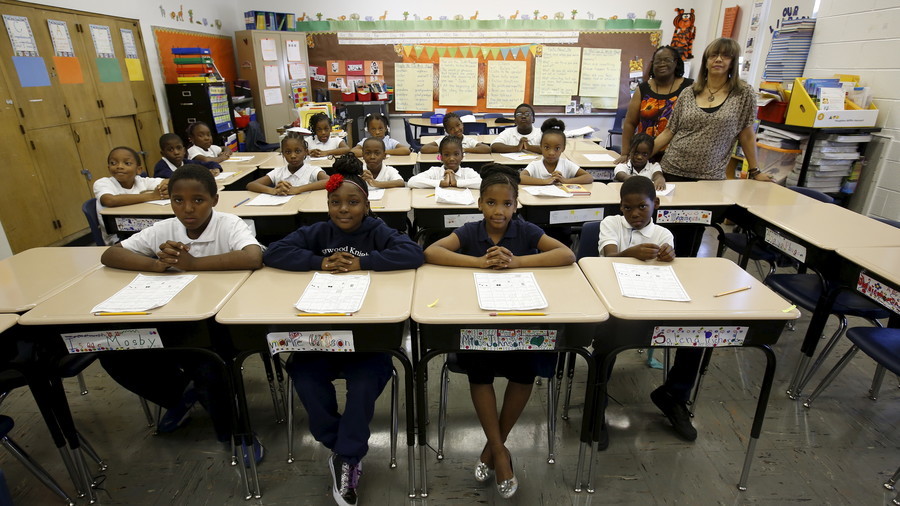 US college students who are training to become teachers already have a bias against black kids before ever stepping into a classroom. A study revealed they're more likely to misread the African-American faces as being hostile.
Forty future American teachers took part in a study, headed by psychology professor Amy Halberstadt of North Carolina State University. They were asked to look at pictures of 20 black and white men and women in order to identify the emotions that the person in the photo was exhibiting, including happiness, anger, surprise, sadness and fear.
The rsearch, published in the Contemporary Educational Psychology Magazine, showed that the participants were more than twice as likely to misunderstand the emotions on African-American faces. When it came to anger in particular, the black faces were four times more likely to be wrongfully considered angry.
The soon-to-be teachers also watched four videos depicting black and white boys performing callous and intentionally insensitive actions in elementary school. The volunteers again attributed more malice to black boys, with their average hostility rating being 3.37, compared to 2.25 for white boys.
It's not only African-American boys, but girls as well, who faced prejudice from the teachers.
"For instance, expectations for females to be more emotionally expressive than males coupled with stereotypes of black people being angry and aggressive make black girls likely targets for being labeled as 'out of control' or overly assertive in the classroom," the research said.
A lot work has been put into making "the visual stimuli all comparable to each other" in the research "so it's really something that's in the receiver that's going on here," Halberstadt told Gizmodo. "This is highlighting very specific ways racial bias might be playing out."
She expressed hope that the paper will provoke a larger conversation on the issue of bias against black students in American schools.
"If we don't even know that we're doing this, then we can't change. So the first step is to become aware and then we can work on our changes," Halberstad said.
READ MORE: Former student charged for racist graffiti on Michigan campus
Simply knowing that there's prejudice will not be enough, the professor said, adding that the teachers "may need to think about whether they're understanding the emotions of black people as well as they are of white people" and learn to properly read those emotions.
Halberstadt also said that her team is already working on a larger survey on the issue that will address not only the bias of teachers, but also its negative effect on children and their education.
Think your friends would be interested? Share this story!