To 'deter war' or 'provide lethal force'? – Pentagon website 'confused' on its own goals
Published time: 1 Jul, 2018 21:29
Edited time: 10 Aug, 2018 16:42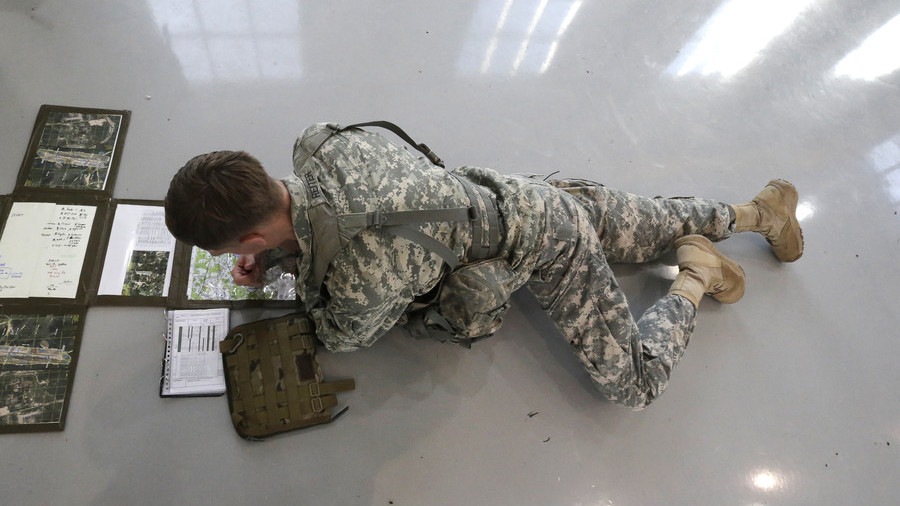 The mission statement on the Pentagon's website sends a mixed message about US military goals, as the old one aimed to "deter war," while the new one focuses on providing "lethal force" instead. And the two somehow coexist.
The new version of the mission statement, proudly displayed at the bottom of each page of the Pentagon website, differs dramatically from the previous one, which had remained in place for over a decade. The sneaky change to the public mission of the US military was made in January but has only caught the attention of the media this weekend.
"The mission of the Department of Defense is to provide a lethal Joint Force to defend the security of our country and sustain American influence abroad," the mission section reads. Such a statement appears to be quite honest, given the scale of US military presence worldwide.
The previous version of this section had displayed the following: "The mission of the Department of Defense is to provide the military forces needed to deter war and to protect the security of our country. The department's headquarters is at the Pentagon."
The mission statement posted on the site's 'About' page is unchanged, sowing confusion. It remains unclear which one of them is correct, if they complement each other and why the sneaky change was made altogether.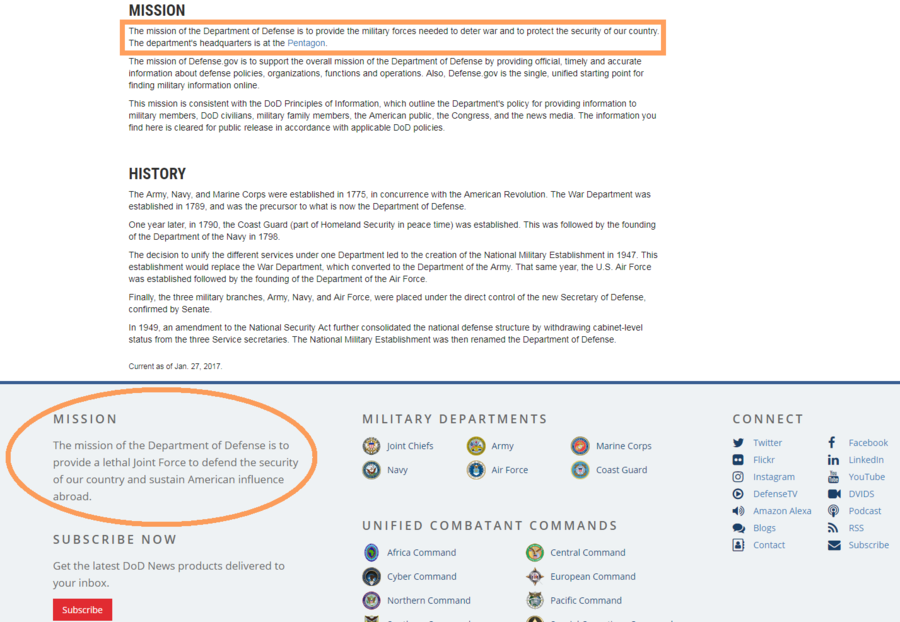 While the Pentagon's 2018 summary of the National Defense Strategy contains a lot about building a "lethal force," it still prioritizes the deterrence of war and does not reflect the confusing change to the mission section of the website.
"The Department of Defense's enduring mission is to provide combat-credible military forces needed to deter war and protect the security of our nation. Should deterrence fail, the Joint Force is prepared to win. Reinforcing America's traditional tools of diplomacy, the Department provides military options to ensure the President and our diplomats negotiate from a position of strength," the summary reads.
Achieving more "lethality" was also named among the top priorities for the US military by the Defense Secretary James Mattis, in his comments on the Defense Strategy made late in January. Still, the top brass US official also named the capability to "deter conflict" as among the priorities.
Like this story? Share it with a friend!