Woman falls through ceiling, man gets tasered in botched escape from Canadian police (VIDEO)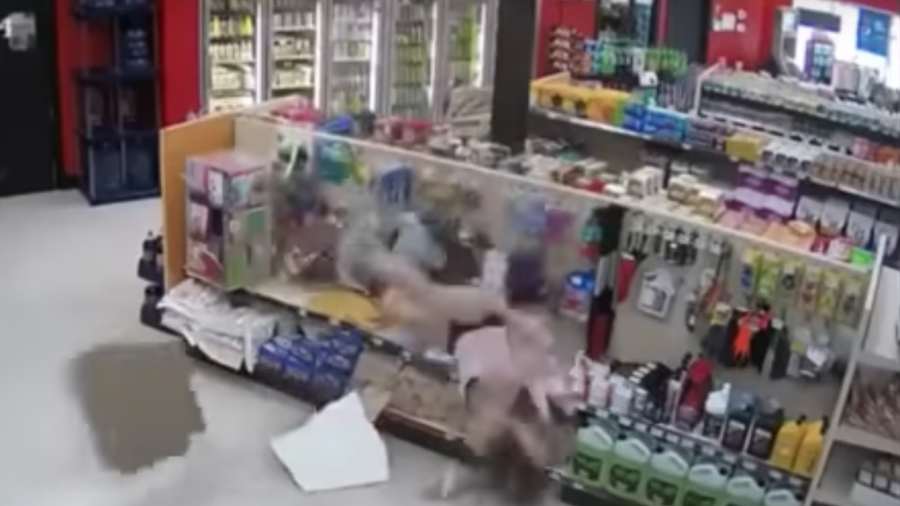 Escaping a convenience store with a can of soda proved an impossible task for a couple of Canadians who, in their cinematic getaway attempt, wrestled police, got tasered and fell through a ceiling, before ending up in jail.
The botched attempt to avoid justice at a Spruce Grove convenience store in Alberta occurred after a suspicious pair of Canadians tried to pay for a can of soda using a stolen credit card. Refusing to let a couple of bucks slide, the responsible store owner called the police.
The subsequent altercation was full of unexpected plot twists, CCTV footage shows. When a Royal Canadian Mounted Police (RCMP) officer arrived at the scene, the 28-year-old male suspect pushed his 29-year-old female friend towards the cop and tried to make it out of the door. The falling officer, however, managed to grab his arm and tackle both to the ground, as the store owner, Paul Chauhan, kept watch at the gate.
Leaving his shirt in the clutches of the policeman, the man ran to the backroom of the store, looking for an alternative exit, CCTV footage from multiple cameras at the store showed. At some point the criminal tried to assault the officer using a bag of nuts of some sort before the mountie tasered him.
The female suspect used the chance to make her own daring escape attempt just as her accomplice suddenly evaded the cop and his electric weapon, and she made a dash for the main door, but was blocked by owner Chauhan.
As the three men brawled, the woman found a ladder in the backroom. But, despite her high hopes of escaping justice, the law of gravity weighed in on two ceiling tiles, which collapsed under the hapless, would-be escapee.
Apparently understanding that fleeing justice was impossible at this point, the woman surrendered to the officer. Meanwhile, more RCMP officers arrived at the scene to secure the arrest of the pair. Both suspects, the CBC reported, were charged with multiple counts, including using a stolen credit card, resisting arrest, assaulting a police officer, attempting to disarm a police officer and resisting arrest from someone aiding the police.
If you like this story, share it with a friend!
You can share this story on social media: