'Don't rely on what press said': Rosenstein trolls Republican lawmaker amid Clinton email dispute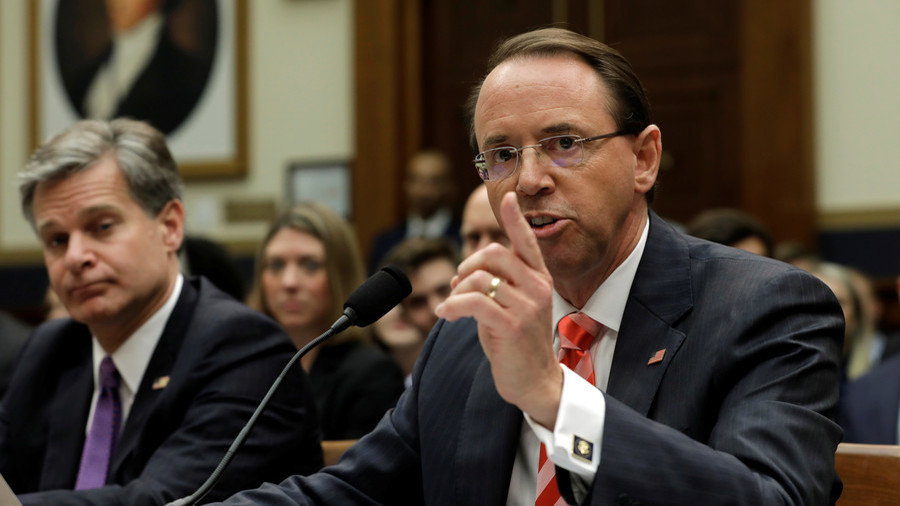 Deputy Attorney General Rod Rosenstein has snapped at Jim Jordan, snarkily lecturing the Republican representative, who had accused him of "hiding" information from Congress and of threatening government staff with legal action.
Jordan, a two-time champion wrestler, had badgered Rosenstein about the Justice Department's failure to turn over documents related to the FBI's probes into Hillary Clinton's email server use and President Trump's alleged ties with Russia.
The Justice Department and the FBI have already turned over thousands of documents, but the Republican-controlled House Judiciary & Intelligence Committees are looking for additional material, including records on alleged surveillance of the Trump campaign. Jordan accused the Department of withholding this information to prolong its investigation, a charge Rosenstein said was "deeply wrong."
"It's not accurate, sir," Rosenstein said, wagging his finger at the Congressman. "I am not hiding anything from you...If you are interested in the truth, [department staff] are working around the clock, doing their best [to provide information]."
Jordan then quoted a Fox News report which alleged that Rosenstein had threatened to subpoena the emails and phone records from staff on the House Intelligence Committee. He accused the deputy of trying to intimidate the committee staffers.
"Did you threaten to subpoena their calls and emails?" Jordan asked.
"No sir, and there's no way to subpoena phone calls," the smug deputy shot back, as laughter spread throughout the room. However, Rosenstein snared Jordan on a technicality. Phone records can, in fact, be subpoenaed, while phone calls themselves cannot.
Rod Rosenstein skillfully SMACKS DOWN Rep. Jim Jordan in a cinematic way…"There's no way to subpoena phone calls."Must watch: https://t.co/rAbWDIt1k1

— Jason K. Morrell (@CNNJason) June 28, 2018
"I'm reading what the press said," replied Jordan, waving a printout of the report in question. Rosenstein was unshaken by the accusation, and responded: "I would suggest that you not rely on what the press said, sir!"
Thursday's hearing was Rosenstein's first time before Congress since the Justice Department Inspector General's report was released. The report criticized the department and the FBI's handling of the Clinton email investigation and the inquiry into the Trump campaign's alleged ties with Russia.
The inspector-general's report found that Former FBI Director James Comey was "insubordinate" and "deviated" from standard FBI and Justice Department procedures in handling the Clinton probe. It did not, however, find that Comey was motivated by political bias, as President Trump has repeatedly asserted.
The report also found that, by exchanging anti-Trump text messages, several FBI employees, including lovebirds Peter Strzok and Lisa Page, had "brought discredit to themselves, sowed doubt about the FBI's handling of the Midyear [Clinton] investigation, and impacted the reputation of the FBI."
In the wake of the report, Republican lawmakers have called on the Justice Department to end Special Counsel Robert Mueller's ongoing 'Russiagate' investigation. Mueller was appointed by Rosenstein after Attorney General Jeff Sessions recused himself. After two years and almost 20 million dollars spent, the investigation has still not found any evidence of collusion between the Trump campaign and Russian actors.
At Thursday's hearing, Rep. Trey Gowdy (R- South Carolina) slammed the investigation, and demanded Rosenstein turn over any incriminating evidence gathered.
"This country is being hurt by it. We are being divided," Gowdy said, and later added: "Whatever you got, finish it the hell up because this country is being torn apart."
The House passed a resolution on Thursday demanding that the Justice Department turn over thousands of documents pertaining to the investigation by July 6.
"When we get these documents, we believe that it will do away with this whole fiasco of what they call the Russian Trump collusion because there wasn't any," said Rep. Mark Meadows (R-North Carolina), a staunch critic of the Justice Department.
President Trump himself has described the Mueller investigation as "rigged" and a "witch hunt" lead by "13 angry Democrats," referring to the fact that 13 of Mueller's 17 investigators are Democrats.
Think your friends would be interested? Share this story!