System of a Down frontman Serj Tankian calls for 'peaceful revolution' in US to dethrone Trump
Published time: 26 Jun, 2018 15:09
Edited time: 27 Jun, 2018 07:49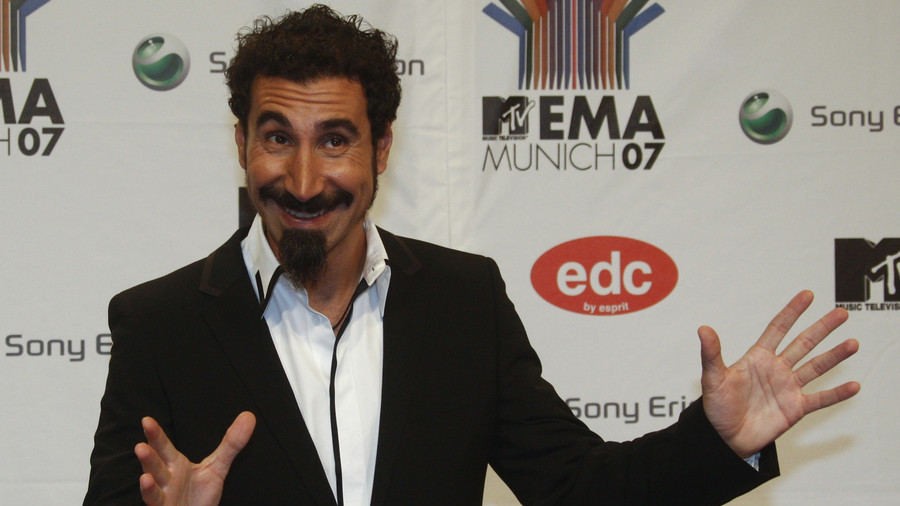 System Of A Down frontman Serj Tankian has called for a "peaceful revolution" in the United States, in response to a provocative but misleading Time magazine cover showing Donald Trump staring down at a crying immigrant child.
The world-renowned American-Armenian musician posted the sensational magazine cover to his Instagram account, writing: "Sometimes a picture says it all. The USA is in a state of utter regression. Time for an Armenia style peaceful revolution no?"
Tankian is certainly not alone in expressing such a sentiment. Trump's controversial policy of separating immigrants who illegally enter the United States from their children has caused mass uproar. The administration claimed that the policy – which was reversed by executive order last week – was necessary in order to protect children from human traffickers.
However, the July 2 cover of Time, while heart-wrenching, doesn't show what it claims to represent: Trump's detention of more than 2,000 children separated from family members or guardians after crossing the border.
The crying 2-year-old girl from Honduras, identified as Yanela Sanchez, was never actually separated from her mother, and the magazine was obliged to publish a correction, noting that "the girl was not carried away screaming by US Border Patrol agents; her mother picked her up and the two were taken away together."
It's shameful that dems and the media exploited this photo of a little girl to push their agenda. She was not separated from her mom. The separation here is from the facts. Dems should join POTUS and fix our broken immigration system. #ChangetheLawshttps://t.co/Y6KrTp4Ulk

— Sarah Sanders (@PressSec) June 22, 2018
Despite the correction, Time editor-in-chief Edward Felsenthal stood by the cover, arguing that Sanchez was "the most visible symbol of the ongoing immigration debate in America."
Tankian's Instagram post received mixed reviews. "A majority of this country sees what he is doing. He's gutting constitutional rights," one comment read. "Serj, as much as I like your music... I don't think you know what [you're] talking about half the time. I figured you had better Intel on politics, obviously not," another lamented.
Misleading photos aside, Tankian appears to have a penchant for political activism. The musician served as an election observer after Armenian demonstrations unseated Prime Minister Serzh Sargsyan in April.
"Whatever is the result of these elections, the important thing is that the organization of civil society, labor unions and the people's power and strength will always be there no matter what," Tankian told the media in Yerevan ahead of the April elections.
READ MORE: Armenian protest leader elected PM by parliament
If Tankian is using the recent political upheaval in Armenia as a template for revolution in the United States, he may be hoping for mass demonstrations across the country to sweep Trump out of power.
Like this story? Share it with a friend!