Armenian protest leader elected PM by parliament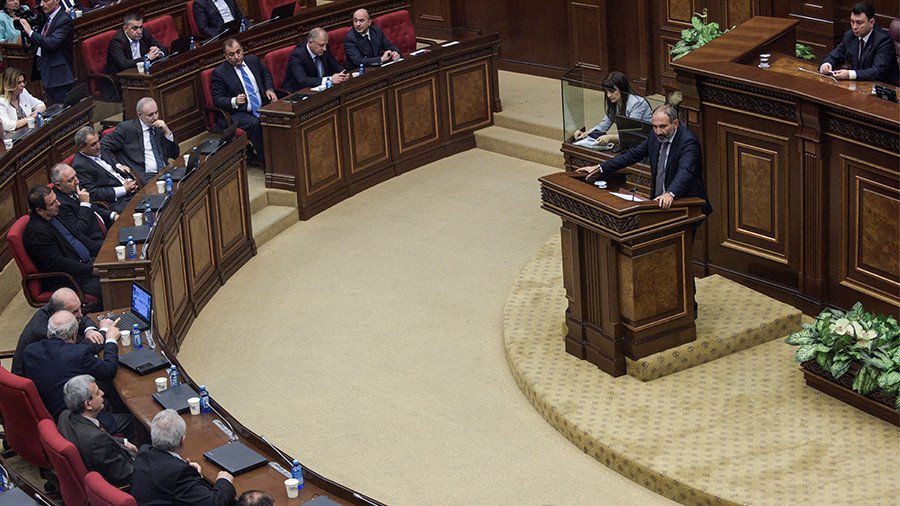 Opposition leader Nikol Pashinyan, who organized street protests in the Armenian capital last month, has been elected the new prime minister by the parliament. He had threatened more protests otherwise.
Pashinyan was elected by a vote of 59-42 by the parliament in the Tuesday election in the 105-seat legislature, according to Interfax. His previous attempt to secure the office last week failed when he received only 45 of the 53 votes necessary.
He responded with renewed street protests, pressuring the ruling Republican Party to pledge that several of its MPs would vote for him in the next election.
The 42-year-old charismatic politician seized a chance to get the most powerful office in Armenia by rallying public rage against his predecessor, Serzh Sargsyan, who previously served as Armenia's president. Under his term the country changed its political system from presidential to parliamentary. Sargsyan reneged on his promise not to seek the newly empowered PM's seat, sparking mass demonstrations in capital Yerevan.
Riding the wave of the protest, Pashinyan not only pressured Sargsyan into retirement days after his election as prime minister, but also seized the office for himself. Pashinyan insists he will not stick to the position for longer than necessary to pass political liberalization reforms and said he will be the "people's prime minister".
Pashinyan previously stated that he does not seek to change Armenia's foreign policy in any radical way. The country is landlocked between four countries, including Azerbaijan and Turkey – which are hostile to Armenia – as well as Georgia and Iran. Armenia's location and the state of relations with its neighbors make international trade very difficult, which hinders economic growth. Critics said that Sargsyan's demise is explained by his by his failure to bring economic prosperity during his time in power as much as by his decision to remain in power.
Think your friends would be interested? Share this story!
You can share this story on social media: