Armenian protesters block traffic, railways & airport as protest leader loses PM bid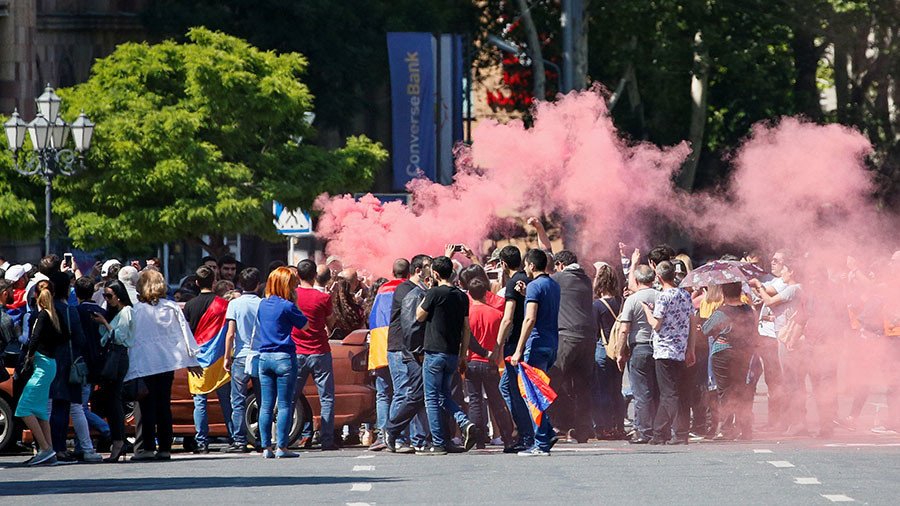 Anti-government protesters disrupted traffic in Armenia's capital, blocking railways and roads leading to Yerevan International Airport, after the parliament voted against opposition leader Nikol Pashinyan's bid for interim PM.
Protesters managed to block streets connecting downtown Yerevan to residential districts, disrupting transportation in Armenia's capital, footage from the scene shows. Yerevan's metro system has also been paralyzed as demonstrators sit on the tracks, preventing trains from passing.
Meanwhile, protesters disrupted traffic on a road leading to Yerevan's Zvartnots International Airport, located just 12km from the center of the city. Consequently, some passengers had to go the rest of the way on foot in order to catch their flights, according to Sputnik news agency.
Railway services have also been disrupted all across the country amid the demonstrations, a spokesman for South Caucasus Railways confirmed to Interfax. Some other highways, including the one connecting the country to neighboring Georgia, were also reportedly blocked by the opposition.
In Gyumri, Armenia's second-largest city, the protests escalated into a takeover of government buildings. Demonstrators broke into the mayor's office, demanding that he join the opposition movement. Levon Barsegyan, one of the protest leaders, said the opposition was in control of most government premises in the city, TASS reports.
The protests renewed after Armenian protest leader Nikol Pashinyan failed to obtain the position of prime minister on Tuesday, and called for a nationwide strike for Wednesday morning – urging supporters to blockade roads, railways and the airport. Following heated debate in parliament, the 42-year-old opposition candidate received only 45 of the 53 votes needed to secure a majority in the 105-seat chamber.
Massive opposition rallies continued to grip the Armenian capital despite Prime Minister Serzh Sargsyan, who was president for several consecutive years, giving in to protesters' demands and stepping down last Monday.
READ MORE: Leader's ambition risks turning street protest victory into mob rule in Armenia – experts
Sargsyan was appointed as PM by the parliament on April 17 but was forced to resign amid protests less than a week later, saying the opposition led by Pashinyan "was right and I was wrong."
Nevertheless, Pashinyan has insisted on electing what he called "the candidate of the people" to oversee the snap elections due to his distrust of the ruling Armenian Republican Party and the acting Prime Minister Karen Karapetyan. Notably, while Pashinyan has secured the support of several opposition factions, his own Yelk faction has only nine seats in parliament.
The acting prime minister, Karen Karapetyan, has called on all political forces to come to the table and resolve the crisis in a "civilized" way, urging them to show "will, determination and flexibility." Karapetyan stressed that "the prime minister could only be elected by the parliament in accordance with the constitution."
Think your friends would be interested? Share this story!
You can share this story on social media: