Rolling in it: 24-karat gold leaf super-joint most expensive ever crafted (VIDEO)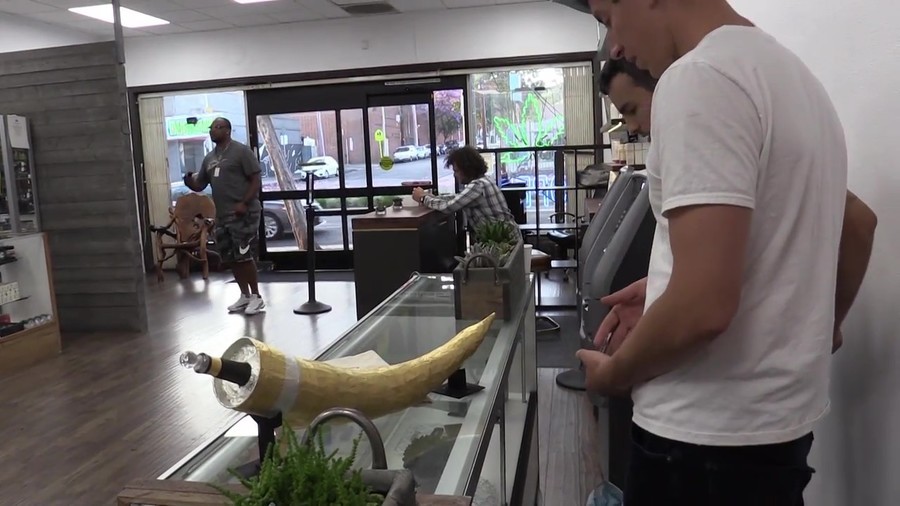 Even a seasoned cannabis smoker would struggle to meet the challenge presented by the world's most expensive joint. The elephant tusk-shaped rollup – valued at $24,000 – recently went up for auction at a dispensary in Los Angeles.
READ MORE: Highly suspicious: Marijuana crop uncovered at offices of Japanese lawmakers
The brainchild of Stone Road Farms, a cannabis start-up specializing in pre-rolled cannabis, the super-joint is wrapped in three layers of 24-karat gold leaf and contains one pound of ground cannabis and bubble hash mixed with other plant extracts. In total the smokable joint weighs 1.5lbs and measures 30 inches.
The joint was auctioned at the opening of an organic dispensary in Downtown Los Angeles with the proceeds of the sale going to the African Wildlife Foundation. However, after collecting just $4,000 at the charity event, the firm received a fraction of its projected value.
READ MORE: Couple forced to live outside UK have house turned into weed farm and destroyed by fire
"Beyond throwing a party to celebrate our expansion, I wanted to incorporate a social cause element, so I decided to create a joint in the shape of a giant elephant tusk to signify the detrimental toll the ivory trade takes on wild elephants," Stone Road Farms founder Lex Corwin told Forbes.
Think your friends would be interested? Share this story!