Boring Company shoots Tesla car down underground tunnel (VIDEO)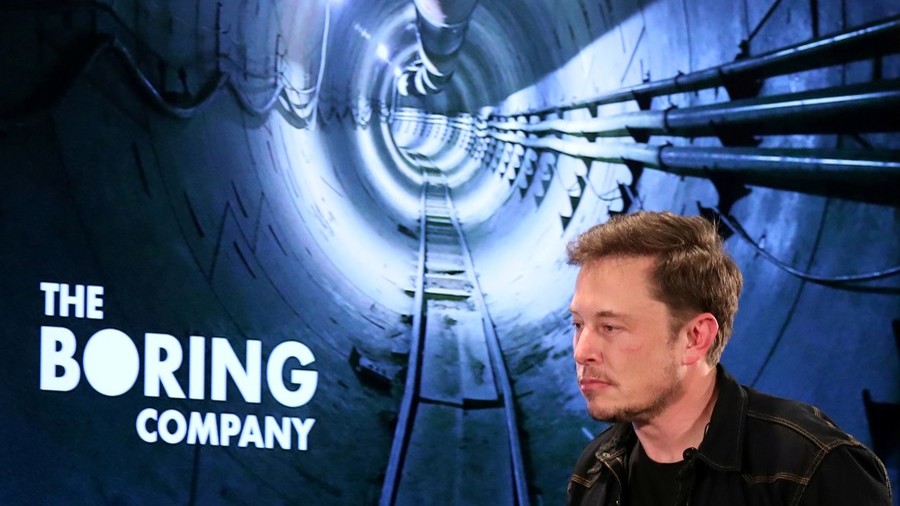 Injecting a brief element of excitement into the humdrum work of tunnelling, The Boring Company has sped a Tesla Model X down a channel that founder Elon Musk hopes will become a commuter success.
With The Boring Company, Musk is currently on a multi-million dollar mission to develop underground transportation corridors known as the Loop and Hyperloop. According to the company, which is currently eating into the earth for tunnels underneath Los Angeles, the aim is to "solve the problem of soul-destroying traffic."
READ MORE: Elon Musk's anti-traffic jam tunnels explained in fresh video (VIDEO)
One of the many facets of The Boring Company is a skate-system which will shuttle cars along subterranean motorways at high speeds. Revealing some headway in the gargantuan project, a Tesla Model X car was strapped to metal skates and shot down one of Musk's underground passages.
Footage posted online by the billionaire entrepreneur's company shows workers counting down before the car, which retails for more than $120,000, zooms down the dusty underground track.
Musk is currently facing a series of Tesla-related woes, including legal action from one of the company's shareholders over Musk's $2.62bn compensation package. Although the payout was approved by Tesla shareholders, it seems they're not all happy with Musk's performance to date, with some saying it's time he's ousted as company CEO.
Despite Musk forecasting Tesla would produce 400,000 Model 3 vehicles, the company failed to produce a quarter of that. The electric carmaker has posted only two profitable quarters in its 14-year history, with losses escalating to over $2 billion last year.
If you like this story, share it with a friend!