Trump praises Kim Jong-un's leadership, wants Americans to stand to attention for him too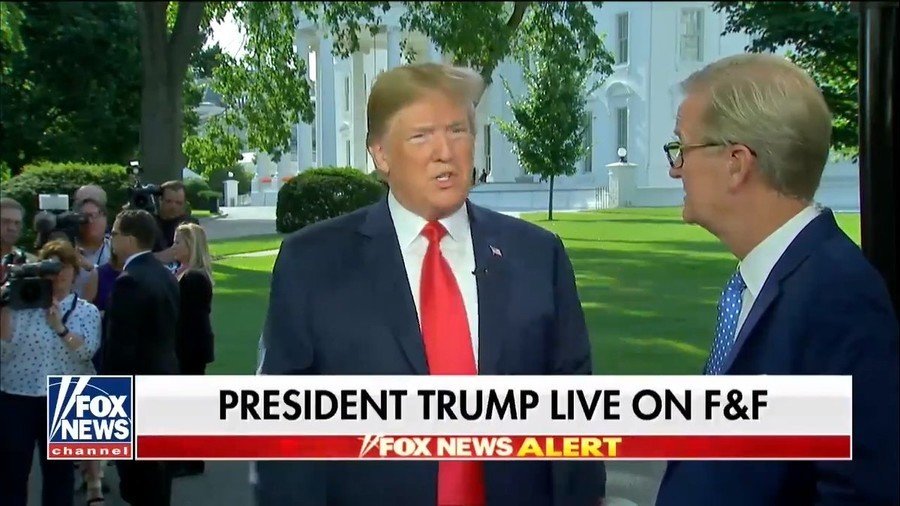 US President Donald Trump spoke in admiring terms about North Korean leader Kim Jong-un, praising Kim's ability to get his people to "sit up at attention," and wishing he could do the same.
"He's the head of a country, and I mean he's the strong head," Trump said. "He speaks and his people sit up at attention. I want my people to do the same."
Twitter instantly reacted to Trump's statement, which some of his opponents in the #resistance viewed as proof of his dictatorial ambitions.
The president was speaking to Fox News in an impromptu interview Friday morning, during which he unloaded on the FBI, China's trade policy, and former President Barack Obama's handling of North Korea.
"He was ready to go to war with North Korea," Trump said, speaking about Obama. "I asked him, 'have you spoken to him [Kim]?' He goes 'no'. I said, 'do you think it would be a good thing to speak to him maybe?"
Trump talked up his achievements at this week's Singapore summit with Kim, which resulted in the signing of a historic agreement between the two leaders. However, Trump's critics have called the US' suspension of military exercises with South Korea in exchange for a vague commitment by Kim to denuclearize an extreme concession to the dictator.
"It's funny when you see the fake news… we signed an agreement where we get everything, but they say 'Trump lost because he agreed to meet," he said. "Of course you got to agree to meet. If you don't agree to meet you're going to have nuclear war."
After his Fox News interview, Trump glossed over Kim's abysmal human rights record, telling a reporter that he met with Kim because "I don't want to see a nuclear weapon destroy you and your family."
Part of Trump's agreement with Kim involves the repatriation of the bodies of several thousand US servicemen, lying in North Korea since the Korean War was put on hold by ceasefire in 1953, a point that the president talked up several times on Friday. The president also touted North Korea's demolition of its nuclear test site at Punggye-ri, its suspension of ballistic missile tests, and its release of three US hostages as victories for the US.
While Kim's end of the bargain (a commitment to denuclearization) was vague, US Secretary of State Mike Pompeo said on Wednesday that the US hopes to achieve "major" nuclear disarmament within 2.5 years. After the Singapore summit, Pompeo met with Asian leaders, including Chinese President Xi Jinping, to secure support for disarming Pyongyang and to coordinate ongoing sanctions against the Kim regime.
Further discussions between the Trump administration and the Kim regime will take place, but Trump was vague when asked about a potential White House visit from Kim.
"It could happen," the president said. "Yeah, I would have him. I think it's something that could happen."
Think your friends would be interested? Share this story!
You can share this story on social media: