US isn't good at keeping promises, no surprise if turns tide on N. Korea deal – Chinese expert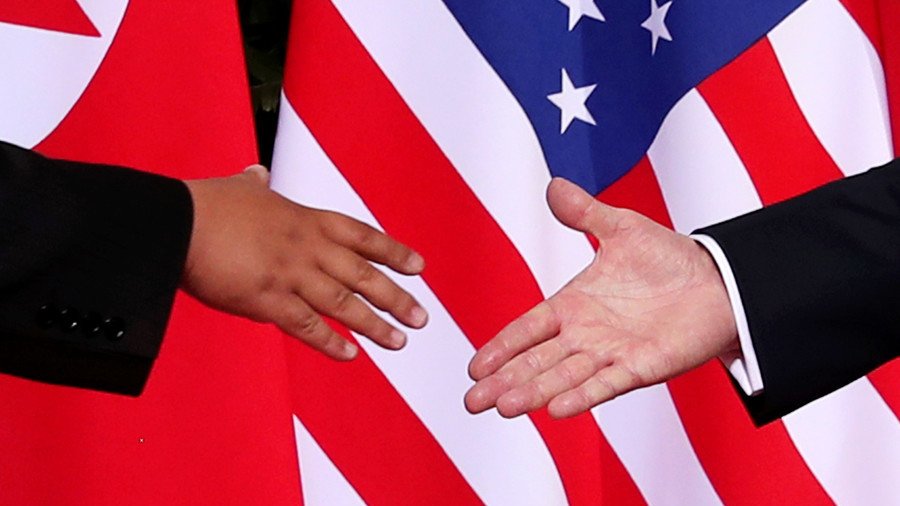 The US has a dubious record of living up to its promises, and North Korea must be ever vigilant while dealing with it, a Chinese analyst told RT, citing America's loose conduct over the Iran nuclear deal and elsewhere.
The milestone meeting between Donald Trump and Kim Jong-un has largely been a success – at least that's the official line from both sides – but it doesn't mean Pyongyang shouldn't exercise elevated caution in its negotiations with Washington, Victor Gao, director of the China National Association of International Studies, has warned.
"The United States doesn't have a good and solid track record of keeping its promises; look at what happened to Iraq, look at what happened to Libya, look at what happened to Syria, look at the fact that the US and President Trump decided to walk out of Iran nuclear deal," he said on RT, when asked about prospects for the bilateral agreement that Trump and Kim inked in Singapore on Tuesday.
"All of these are very alarming signs for the DPRK and I would not be surprised if they [realize] that the United States has changed its position again and again and again," the Chinese expert asserted.
North Korea should also beware of risks that may emerge if it surrenders its nuclear weapons, Gao warned. He pointed to a "great mismatch between the United States and the DPRK" as to what exactly denuclearization means, and how it should be achieved.
Gao's judgement echoes that of the Iranian government, which previously advised Pyongyang to be cautious about Washington's intentions. "We believe that the Korean government should deal with this issue very carefully, because the nature of the American regime is not something to be optimistic about," said Foreign Ministry spokesman Bahram Qassemi.
READ MORE: Iran warns N. Korea over possible Trump U-turn on Singapore deal
Under the joint declaration, the United States agreed to provide security guarantees to North Korea, while the reclusive state reaffirmed its "firm and unwavering commitment to complete denuclearization of the Korean peninsula." The two countries have also agreed to build confidence and start working on repatriating identified remains of GIs killed or captured during the Korean War.
"There was not much substance to the declaration and it will take a very long [time to achieve] whatever they agreed in the declaration," Gao commented.
However, there are reasons to be "very optimistic about the fact that the meeting actually took place," Gao said. "Of course, if you look at what happened over the past six months, there was a rollercoaster development," he added, referring to ups and downs in the US-North Korean dialogue. "However, it is very fortunate that President Trump calmed down at least for today."
READ MORE: Denuclearize first, talk sanctions after: What historic US-N. Korea summit promised to the world
Asked if China feared being brushed away from the reconciliation process, Gao said Beijing "has no worries about so-called loss of control over the DPRK [Democratic People's Republic of Korea]." Both countries have developed a special bond since the end of the Korean War, and the fact that the Chinese government dispatched its Boeing 747 to transport Kim Jong-un to Singapore speaks for itself, he added.
"I don't think China has any selfish desire for the Korean peninsula," Gao said.
You can share this story on social media: