Treason or respect? Trump draws ire for returning North Korean general's salute (VIDEO)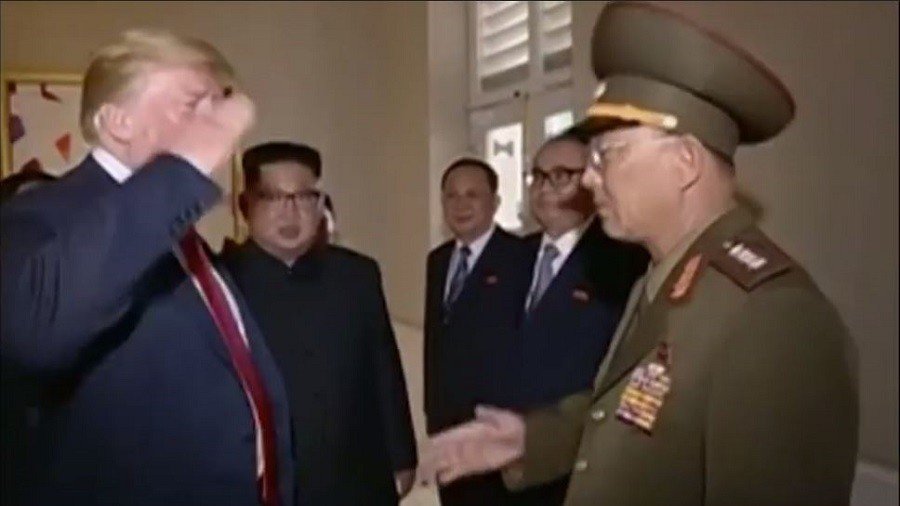 Footage of the US President returning the salute of a North Korean general has set off his domestic critics, who have accused Donald Trump of showing respect for a "murderous regime" in Pyongyang.
Video released Thursday by North Korea shows the meeting of the two delegations on Monday in Singapore. As Trump goes down the line and shakes the hands of Kim and his aides, a North Korean general offers a salute – and Trump returns it.
"Trump first extends his hand, to which the General responds with a salute. Trump salutes back, then extends his hand again & the two men shake hands," CNN correspondent Will Ripley tweeted.
The network described it as "an extraordinary display of respect from a US president to a top officer of a hostile regime," and devoted much of its programming on Thursday to it.
Trump's critics quickly seized on the salute as proof of the president's hypocrisy, arguing he was dishonoring America by saluting a foreign officer while condemning football players kneeling during the national anthem. Some have even accused Trump of "treason."
"It's a common courtesy, when a military official from another government salutes, that you return" the salute, White House press secretary Sarah Sanders said at a press briefing on Thursday.
Several former members of the US military have pointed out that the North Korean was showing respect for the US president by offering the salute first, and that there was nothing wrong with Trump returning the gesture. According to military protocol in both the US and North Korea, the lower-ranking individual always initiates the salute, which is returned by their superior.
Trump and Kim held a historic meeting on Monday, agreeing to continue talks on denuclearization of the Korean Peninsula and reaching a peace treaty that would end the Korean War, frozen since a 1953 armistice. The US has suspended joint war games with South Korea, while Kim promised he would destroy a missile testing site. Stocks of major US weapons manufacturers tumbled following the summit.
Like this story? Share it with a friend!

You can share this story on social media: