No formal meeting between Trump & 'schoolmistress' May at G7 summit - reports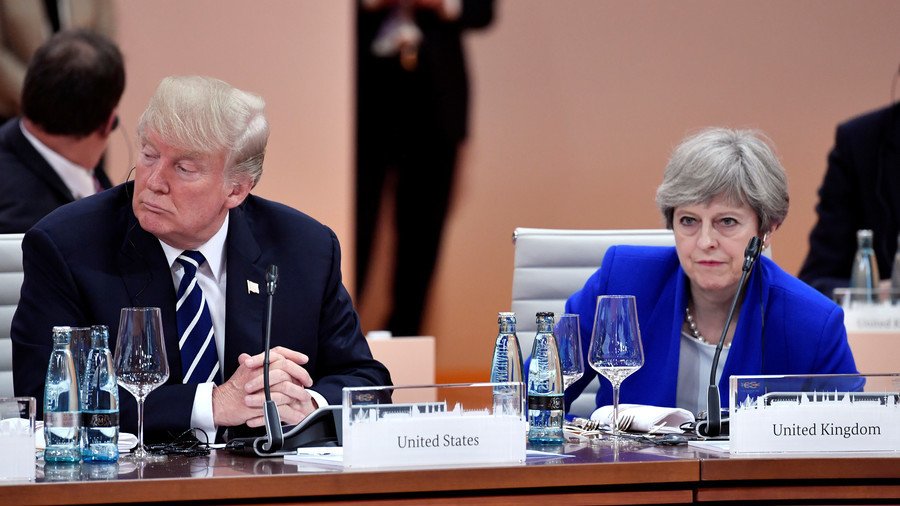 UK Prime Minister Theresa May is not on the list of world leaders scheduled for bilateral meetings with US President Donald Trump on the sidelines of the G7 summit in Canada, in an apparent rift in the 'special relationship.'
No formal meeting is scheduled between Trump and May, UK officials confirmed. She will meet with other G7 leaders, however. Trump is unhappy with May's frequent demands and the tone of their phone conversations, the Daily Telegraph reported, citing unnamed US officials.
"No offense, but she is basically a school mistress. I'm not sure anyone gets on well with her," a former White House official, who attended meetings between May and Trump, told the paper.
The leaders of seven industrialized countries are meeting in Charlevoix, Quebec, for a two-day summit. It is expected to be a frosty affair, however, mostly due to Trump's decision to slap tariffs on steel and aluminum imports from US allies.
Trump is scheduled to hold bilateral talks with Canadian PM Justin Trudeau and French President Emmanuel Macron, the White House confirmed on Wednesday.
Macron, who visited Washington in April and seemed to enjoy a "bromance" with Trump, has since soured on the US leader.
"Nobody is forever," Macron said on Thursday. "Maybe the American president doesn't care about being isolated today, but we don't mind being six, if needs be."
The other six countries "represent values, represent an economic market, and more than anything, represent a real force at the international level today," Macron added.
After Quebec, Trump is headed to Singapore for the historic summit with North Korean leader Kim Jong-un. Britain is still hoping to mend fences with Trump during his scheduled working visit in July, the Telegraph reported.
Think your friends would be interested? Share this story!
You can share this story on social media: