Watergate? Trump and Pence's double act fuels conspiracies on social media
Published time: 7 Jun, 2018 14:04
Edited time: 8 Jun, 2018 09:54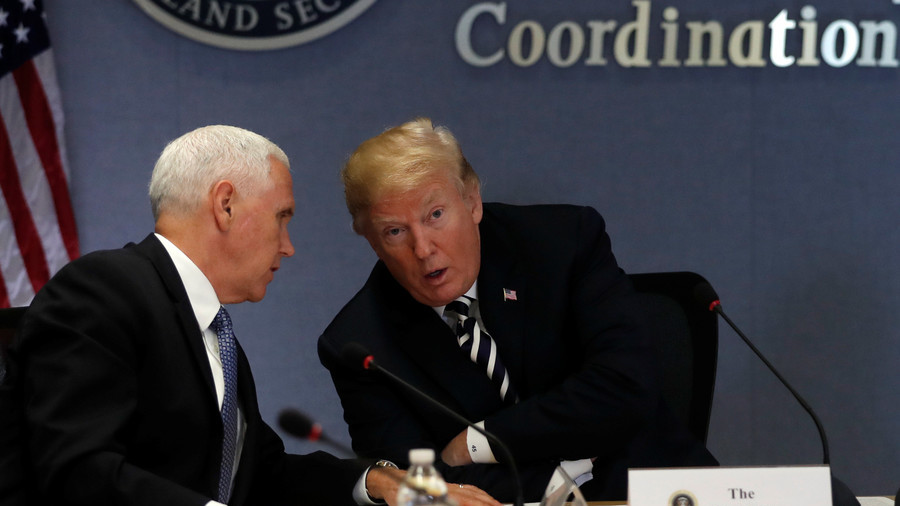 US President Donald Trump and Vice President Mike Pence's bizarre actions at a FEMA meeting is the mystery driving social media users crazy.
During the meeting to discuss hurricane season at the Federal Emergency Management Agency (FEMA) headquarters on Wednesday, Trump removed a bottle of water from the table and put it on the floor. Pence quickly copied Trump and moved his own water bottle to the floor as well.
The strange moment was captured on video, and soon went viral. Social media users were both mystified and amused by the double act, and no explanation has been given for the curious incident.
Why did Pence do this?

Is it some code?

What does it all mean?

Was there no more room at the table for the water bottle?

SO MANY QUESTIONS.https://t.co/dwKobFReay

— Rogue NASA (@RogueNASA) June 7, 2018
This is completely, insanely, and psychologically disturbing.

— Jonathan Blaine, Esq (@Blainejo) June 6, 2018
It really is bizarre behavior @DMRDynamics

— Carolyn Boyle (@accidntlmystic) June 6, 2018
Many found the behavior "disturbing" and "bizarre." Some thought it was a cute display of Pence's admiration for the president, and many joked the pair could have been playing a game of 'Simon Says.'
So logically, I guess Pencey would follow Donny ANYWHERE he goes🤔:) pic.twitter.com/QeN420do1W

— Max Howroute (@howroute) June 6, 2018
A secret code, at the end Trump places the napkin on his lap. Kind of signaling something to somebody?

— Willie Rosario (@Salsacola) June 6, 2018
Some believed the moves were a secret signal, while others were puzzled by the fact that Trump also grabbed a napkin from the table and appeared to place it in his lap.
There may be a simple explanation for the bottle shift, such as the two realizing a photograph was about to be taken, or perhaps they were irritated by condensation from the water bottles leaving rings of water on the table, but we'll likely never know.
Like this story? Share it with a friend!