Bill Clinton reveals why Hillary lost (hint: Jill Stein & Russia)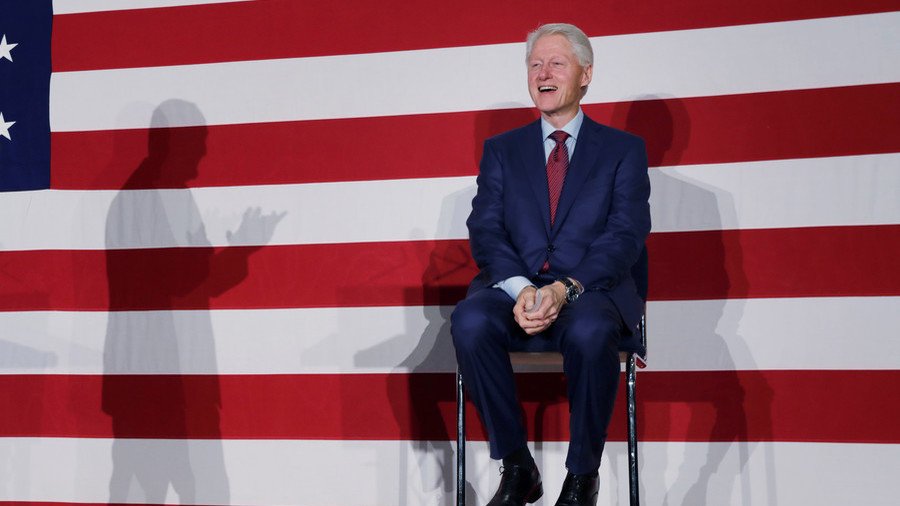 Former President Bill Clinton shed some light on why he thinks his wife might have lost her 2016 presidential bid. He dramatically exposed Russia's "preferred alternative" - the Green Party candidate.
Speaking at an event in New York, Clinton reckoned that Green Party candidate Jill Stein was the "preferred alternative of the Russians," and hinted that shadowy Russian actors must have cast votes for Stein instead of Clinton.
"We know that Jill Stein, preferred alternative of the Russians, got more — the difference in her vote in 2012, 2016 was more than the difference in the election in Michigan, Wisconsin and Pennsylvania," he said. "That doesn't mean the Russians did it, but it's — it makes you scratch your head...Maybe the Russians did have a decisive impact."
If it wasn't the Russians, then it must have been the FBI. Clinton also said that the presidential race was so close that "Comey's late announcement could swing it," referring to then-FBI Director James Comey's decision to announce that he was reopening his investigation into Hillary Clinton's mishandling of classified information on a private email server just weeks before Americans went to the polls.
Clinton gave his blessing to Special Counsel Robert Mueller's ongoing 'Russiagate' probe, and he said that "we should wait for Mr. Mueller to do his work and protect him when he does."
Mueller's investigation has cost the American taxpayer almost $17 million to date, and it has failed to produce any evidence of collusion between the US President Donald Trump's campaign and Russia.
Clinton was in New York to promote his new book, 'The President is Missing,' co-authored with bestselling author James Patterson. As his book tour does the rounds, Clinton has been dogged by personal questions about his past.
In the wake of the #MeToo movement, Clinton was asked at the same event whether he would reconsider his affair with Monica Lewinsky as exploitative, to which he replied: "I've said all I have to say. I'm not going there."
Likewise, Clinton was silent when asked whether he would apologize to Juanita Broaddrick or any of the other women who claim they were sexually assaulted by him.
Like this story? Share it with a friend!
You can share this story on social media: