Management purge, US oversight & $1.3bn fine: Trump's terms to reopen ZTE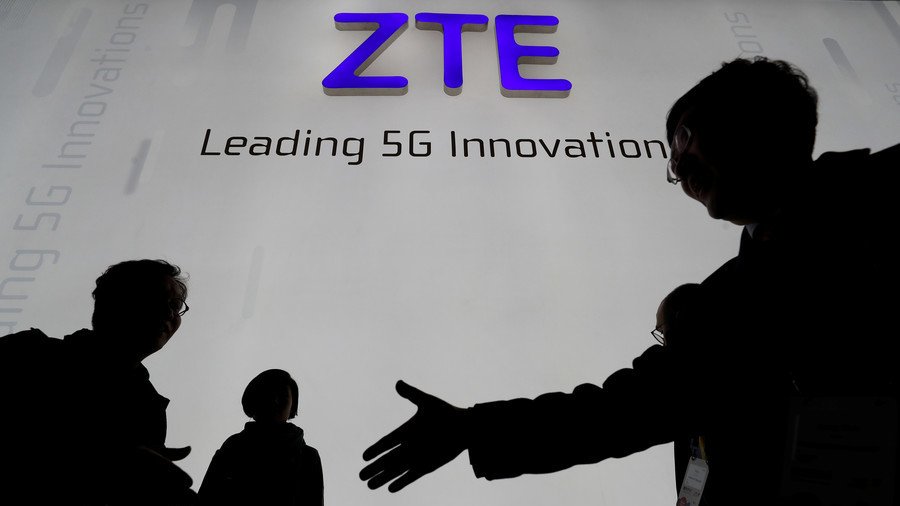 China's telecom giant ZTE will be allowed to buy from US suppliers again if it changes its management team, installs US compliance officers and pays a $1.3 billion fine, according to a Trump administration proposal.
The US Commerce Department communicated the terms of the deal to Congress on Friday, Reuters reported, citing an unnamed congressional aide. If ZTE agrees to implement the administration's demands, the Commerce Department will lift the ban on purchasing US products.
Headquartered in Shenzhen, China, ZTE was handed a seven-year ban on buying US technology components in mid-April. The Trump administration accused the company of violating the 2017 settlement after ZTE was caught shipping US components to North Korea and Iran and ordered to pay a $900 million penalty.
President Trump tweeted about the proposed deal on Friday, criticizing the Obama administration for letting ZTE "flourish with no security checks" and adding that Democrats "do nothing but complain and obstruct."
Senator Schumer and Obama Administration let phone company ZTE flourish with no security checks. I closed it down then let it reopen with high level security guarantees, change of management and board, must purchase U.S. parts and pay a $1.3 Billion fine. Dems do nothing....

— Donald J. Trump (@realDonaldTrump) May 25, 2018
...but complain and obstruct. They made only bad deals (Iran) and their so-called Trade Deals are the laughing stock of the world!

— Donald J. Trump (@realDonaldTrump) May 25, 2018
Trump told Fox News on Thursday that he personally negotiated the $1.3 billion fine with Chinese President Xi Jinping in a phone call.
The president's efforts to negotiate a deal with ZTE have been met with opposition from Democrats, as well as some Republicans. Senate Minority Leader Chuck Schumer (D-New York) and Senator Chris Van Hollen (D-Maryland) have said Congress should stop Trump from letting ZTE do business in the US. Senator Marco Rubio (R-Florida) has likewise criticized the Chinese company as a security hazard.
ZTE is one of China's leading manufacturers of telecom equipment. It is publicly traded, but the largest shareholder is a Chinese government-run company. US companies provide up to 30 percent of components used in ZTE's equipment. The ban has reportedly cost the company $3 billion so far.
The Trump administration has taken a hard line on renegotiating trade deals with China. Earlier this week, the Pentagon "disinvited" China from participating in the 2018 RIMPAC naval exercises, as Congress launched a series of hearings about the "pre-eminent threat to American security and values" posed by Beijing.
Like this story? Share it with a friend!
You can share this story on social media: