'They're playing with world peace': What next for US-North Korea relations?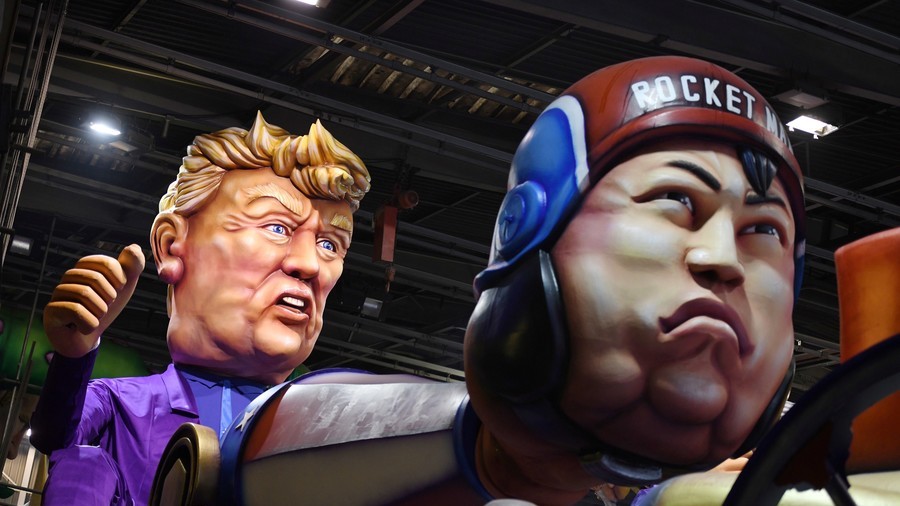 Could a barrage of missiles now come from North Korea? Has the opportunity to solve the nuclear threat in Korea been squandered? These questions are left unanswered after the US' decision to cancel a summit with Kim Jong-un.
The US president's shocking cancellation of the June summit - billed as an opportunity to bring North Korea in from the political wilderness - has pushed denuclearization and peace on the Korean Peninsula back into unknown territory.
READ MORE: Trump cancels June summit with Kim, says 'You talk about nukes, but ours are massive'
The dramatic diplomatic anticlimax came after a positive step saw North Korea blow up three nuclear tunnels and observation buildings at a test site in Punggye-ri. Trump cited the "tremendous anger and open hostility" displayed by North Korea's government after they took umbrage at US Vice President Mike Pence's suggestion that the country could become like Libya - politically and economically destitute with a deposed leader - if they don't submit to denuclearization.
Libya Model gaffe
Jan Oberg, director of the Transnational Foundation for Peace and Future research, believes Trump's backroom staff are to blame for the sharp U-turn.
Oberg told RT.com that the 'Libya model' comments made by Pence gave an insight into the real thinking of some people in the White House. "[Pence] argued very solidly for a couple of things that anyone who wants peace should never have said at that moment. Namely that all options are still on the table, which is against the UN Charter. You cannot threaten countries like that."
"There was also a comparison between North Korea's possible fate and Libya's. Now you don't say things like that if you have any wish for peace, dialogue or negotiated solution. They are playing with world peace without asking anybody."
He said that a 'war cabinet' behind Trump - including VP Mike Pence and US Secretary of State Mike Pompeo - have effectively taken the decision out of the president's hands. "There are people in the American administration, foreign policy circles, who would like to have what they call a preemptive war. They don't trust North Korea."
Leaders attempting to preserve honor
Mark Almond, director of the Crisis Research Institute in the UK, said that the situation could still be rescued, but blamed the current situation on two nations not wanting to lose face.
"It could well have been the North Koreans, who had also of course been very belligerent in statements only a few hours ago, may have been wanting to test how desperate Donald Trump was for a summit to burnish his credentials," Almond said.
"The North Koreans may have thought that Trump was under pressure to have at least one universally recognized foreign policy success, and Trump may not have wanted to be seen the weaker person desperate for the summit."
Cancellation damages trust
The fallout is a "very bad development" for the Korean Peninsula and denuclearization in general, Victor Gao, director of the China National Association of International Studies, told RT.com. Regarding the cancellation letter, he said the decision will not reflect well on the US, which has already strained relationships with allies by pulling out of the Iran deal.
"A great country like the US needs to handle itself with a sense of responsibility. I don't think history will record well how the US handled denuclearization on the Korean Peninsula. The US should be urged to practice real statesmanship and real leadership in avoiding a deterioration of the situation."
He told RT.com that the Trump administration's lack of diplomacy could go down in history as a terrible mistake, and it calls the trustworthiness of the White House into question.
"[Trump's decision] made it less easy to trust the real intention of the US and it also creates more difficulties for the Democratic People's Republic of Korea and its leaders to really come to terms with any future decision to meet with the US president. I think it's a major setback," Gao said.
"I hope that Donald Trump will come to the conclusion that there is only one right thing to do as far as denuclearization is concerned, that is to do diplomacy, dialogue and negotiation, and never threaten to use nuclear weapons."
He admitted that language used by both sides could well determine if the situation reverts back to what was seen last year, when highly inflammatory rhetoric from the two leaders threatened war in the area.
"Both the leaders of the DPRK and the US need to deal with this in a very serious way and need to avoid sending out wrong, confusing and conflicting messages. Denuclearization is probably one of the most important things for mankind, and no one should be allowed to deal with it in a capricious and highly unpredictable way," Gao said.
You can share this story on social media: