Trump touts US military readiness after N.Korea destroys its nuke test site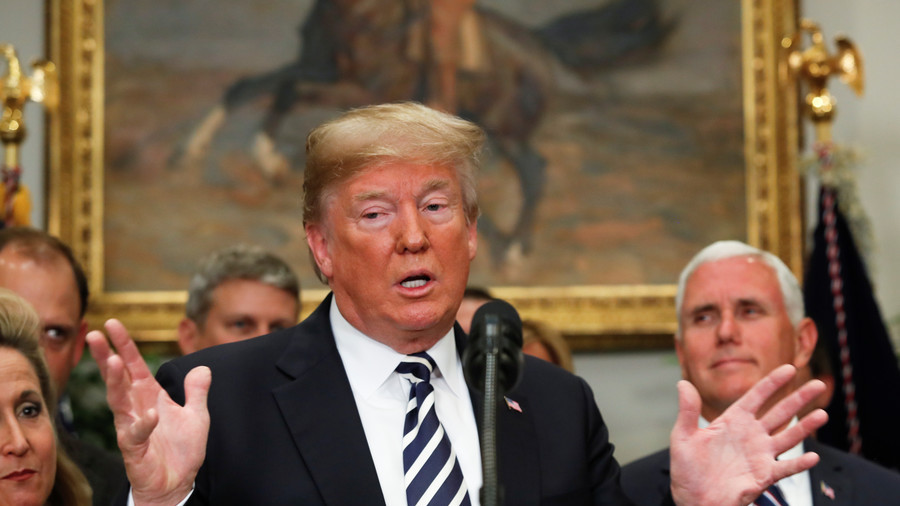 After cancelling a long-awaited summit with Kim Jong-un, President Donald Trump warned North Korea that US military 'more ready than ever before.' The fallout comes hours after Pyongyang dismantled its nuclear testing site.
Touching upon the cancellation on Thursday, during a signing of a banking reform bill, Trump chose to point out US military strength.
"Our military, which is by far the most powerful anywhere in the world," he said, "is ready if necessary," should Kim react badly to the cancellation. Trump also announced that South Korea and Japan were onboard and ready to shoulder some of the cost of military operations, should the need arise.
Trump canceled the June 12 summit just hours after North Korea destroyed its nuclear testing site in the presence of international journalists, as promised during the talks. Preparations for the Singapore meeting had been underway since March.
The fate of the summit hung in the balance over the past week, as North Korea protested the US-South Korean military drills and comments from national security adviser John Bolton and Vice President Mike Pence regarding the so-called "Libyan model" for denuclearization.
North Korean Vice Minister of Foreign Affairs Choe Son-hui had threatened to walk away from discussions if Washington continued to carry out its "unlawful and outrageous acts," including joint military exercises with South Korea.
"Whether the US will meet us at a meeting room or encounter us at nuclear-to-nuclear showdown is entirely dependent upon the decision and behavior of the United States," Choe said. She also condemned Pence's remarks as "ignorant" and "stupid."
That was the "last straw" leading to Trump's decision to cancel the Singapore summit, blaming Kim's "tremendous anger and open hostility," Reuters reported citing the White House.
"You talk about your nuclear capabilities, but ours are so massive and powerful that I pray to God they will never have to be used," Trump said in the letter to Kim.
"If and when Kim Jong Un chooses to engage in constructive dialog, I am waiting," the US president said on Thursday, warning the North Korean leader against "foolish and reckless" acts.
In his typical manner, however, Trump left the door open to meeting with Kim later.
"North Korea has the opportunity to end decades of poverty and depression. A lot of things can happen," he said.
"I think they want to do what's right. Hopefully this will work out," the US president added.
The US and North Korea had a "wonderful dialog" and a "very good working relationship" in freeing the three US prisoners, Trump said, but the tone of the talks soured after that.
"I think I understand why that happened," the US president said cryptically, refusing to elaborate. Earlier in the week, in a meeting with South Korean President Moon Jae-in, Trump brought up Kim's second trip to China as the point where rhetoric began to escalate, but said he did not want to blame Chinese leader Xi Jinping.
The June summit would have been the first time a sitting US president met with his North Korean counterpart. South Korea has asked for a new meeting to be arranged as soon as possible.
Like this story? Share it with a friend!
You can share this story on social media: