We're 'light-years ahead' of Obama admin on Russia, Pompeo says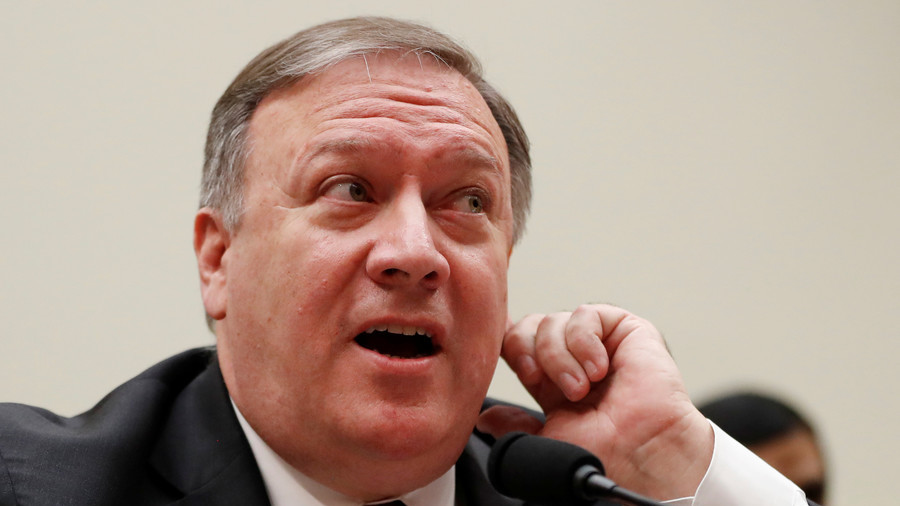 State Secretary Mike Pompeo declared that the Trump administration was "light-years" ahead of Obama's in dealing with Russia, and he offered his European allies advice on pushing back for themselves.
Testifying before the House Foreign Affairs Committee on Wednesday on his department's 2019 budget request, Pompeo was grilled on issues from North Korea talks to women's rights as he tried to justify $39.3 billion in funding for the State Department and USAID. Russia could not have been avoided.
Lawmakers questioned Pompeo on whether his department was doing enough to prevent Russian actors from meddling in the 2018 midterm elections this November.
Pompeo did not say what 'meddling' could possibly take place, but he assured lawmakers that his administration will take "appropriate countermeasures," to fight what he called "continued efforts."
Predictably, the specter of Russian collusion was raised by the Committee's top-ranking Democrat, Rep. Eliot Engel (D-New York), who accused the Trump administration of "giving Russia a pass," citing unproven allegations of Russian support for Trump in the 2016 election.
Pompeo defended the Trump administration's "enormous efforts to push back against Russia," which he claimed were "light-years better than what was done in the previous administration."
In detailing his department's foreign policy strategy towards Russia, Pompeo was keen to dictate how America's allies should interact with her.
America's European allies, he said, should not buy Russian gas. But with Russia supplying over 30 percent of the EU's gas, cutting the cord may prove difficult. Pompeo added that the US will "continue to push the Nord Stream 2 to be ended." With an annual capacity of 55 billion cubic meters of gas, the still-unfinished pipeline will deepen Europe's dependence on Russian energy and threaten revenue from more expensive US gas exports to Europe.
Pompeo added that his department would work towards ending Eastern European militaries' reliance on Russian weapons parts, a legacy of the Cold War.
Regarding Turkey's ongoing negotiations to buy Russian S-400 surface-to-air missiles in 2019, Pompeo said that the US would put its thumb down on its NATO ally, and "continue to keep the Turks in a place where they will never acquire the S-400."
"We need their behavior to reflect the objectives of NATO," Pompeo said. Turkey is still set, however, to take delivery of its first US-manufactured F-35 multirole jet fighter this June. Turkey plans to purchase 100 of the fighters, at a cost of around $100 million each.
Lawmakers also touched on North Korea, to which Pompeo maintained his administration's goal of "total, verifiable denuclearization" still stood; and Iran, to which he detailed a broad plan aimed at curbing Iranian influence in Syria and Lebanon.
You can share this story on social media: