Iranians should deliver 'strong punch to mouth' of Pompeo – IRGC commander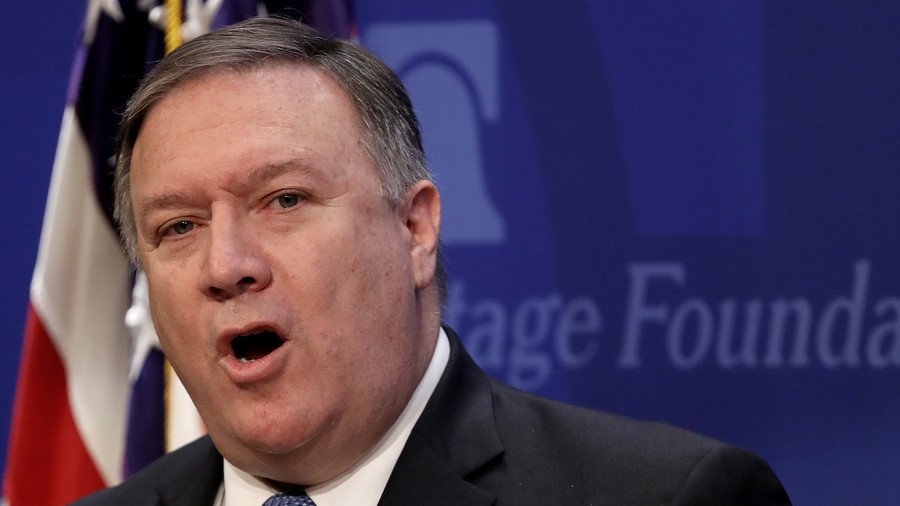 Iranians should deliver a "strong punch to the mouth" of US Secretary of State Mike Pompeo and those who back Washington, an Iran Revolutionary Guards commander stated in response to demands laid out for Tehran by Washington.
"The people of Iran should stand united in the face of this and they will deliver a strong punch to the mouth of the American Secretary of State and anyone who backs them," Ismail Kowsari, the deputy commander of the Sarollah Revolutionary Guards base in Tehran, told the Iranian Labour News Agency.
His comment came after Pompeo announced a set of 12 demands that Tehran would have to abide by in order for a new nuclear agreement to be reached. Among those were withdrawing Iranian troops from Syria – despite the fact that those troops were invited by the legitimate government, unlike US soldiers whose presence in the country is not backed by a similar invitation or a UNSC mandate.
"We never wanted to see ourselves in Syria. The authorities of the oppressed Syrian people asked us to be there and, whenever they decide otherwise, we are in harmony with them and we will act on their request," Kowsari said.
He went on to address the fact that the US seems to believe it is fully within its rights to determine the rules for Tehran and its nuclear program. "Who are you and America to tell us to limit the range of ballistic missiles?" he said. "History has shown that with the attacks on Hiroshima and Nagasaki, America is the top criminal with regard to missiles."
On Monday, Pompeo said that Tehran will struggle to "keep its economy alive" if it doesn't comply with the list of 12 demands, noting that they were necessary in order for a new deal to be reached. His statements prompted a response from Iran's Foreign Ministry.
"Pompeo's remarks once again revealed the poor intelligence, weak oversight, analytical backwardness and confusion in decision-making processes in the United States, and showed radical and hawkish currents in the US neither know history, nor can learn lessons from it," the ministry said in a statement following Pompeo's announcement.
Although the US is pushing for a new nuclear deal to replace the old one which was deemed a "loser" by Pompeo, it has failed to acknowledge that the other signatories of the agreement have every desire to continue with the accord, despite US President Donald Trump walking away earlier this month. It also fails to pay attention to the fact that the International Atomic Energy Agency (IAEA) is an international body, not a lapdog of the US.
At the end of the day, Iran "will not agree to any of Washington's demands," University of Tehran political science professor Hamed Mousavi told RT on Monday.
"It is Iran that should be asking the US why it has not fulfilled its side of the agreement when Iran has fully complied with its obligations under the nuclear deal. Why should Iran negotiate with an administration that is not abiding by an international agreement that is the result of years of intense diplomacy?"
Think your friends would be interested? Share this story!
You can share this story on social media: