Syrian army declares Damascus area secure after clearing out ISIS-controlled pocket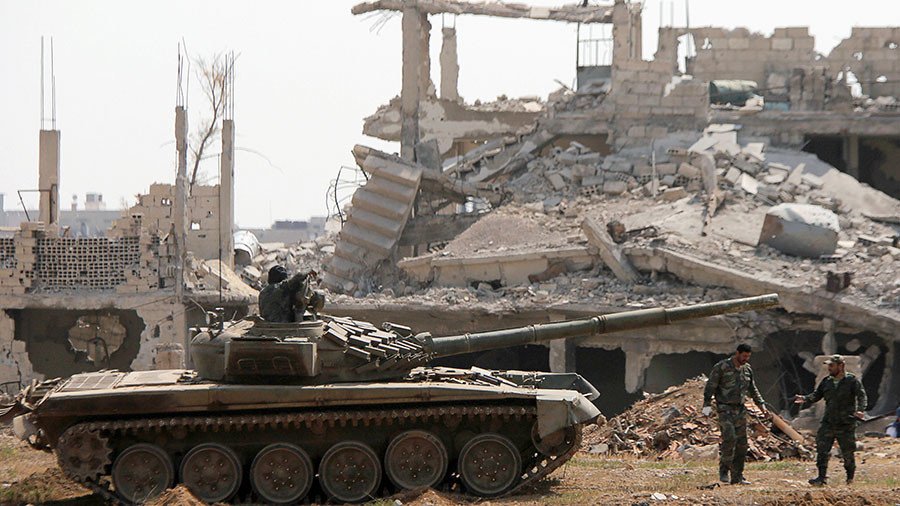 The Syrian army has declared Damascus and its surrounds fully secure after regaining control of a former Islamic State (IS, formerly ISIS/ISIL) stronghold in the southern part of the city.
The army made the announcement in a televised statement after establishing control of the Damascus neighborhood of al-Hajar al-Aswad on Monday, according to local media.
The military capture came after the Syrian Air Force raided terrorist sites and fortified points in the neighborhood, according to SANA. Infantry units reportedly stormed buildings where fighters were positioned and chased them down the streets.
It comes after a temporary humanitarian ceasefire was implemented in al-Hajar al-Aswad on Sunday night, to evacuate children, women, and the elderly.
The Monday success is a major breakthrough for the Syrian army which had, alongside its allies, been battling for weeks to recapture the tiny IS enclave in al-Hajar al-Aswad and the neighboring Yarmouk Palestinian refugee camp. It was the last area outside government control in or around Damascus. The army also found an extensive network of tunnels in recently-liberated areas of the neighborhood.
It comes two days after a military source spoke to SANA and denied reports that an agreement had been reached between the Syrian army and IS in al-Hajar al-Aswad.
Think your friends would be interested? Share this story!
You can share this story on social media: