US anti-tank missiles found at former Al-Nusra facility in Syria – Russian MoD (VIDEO)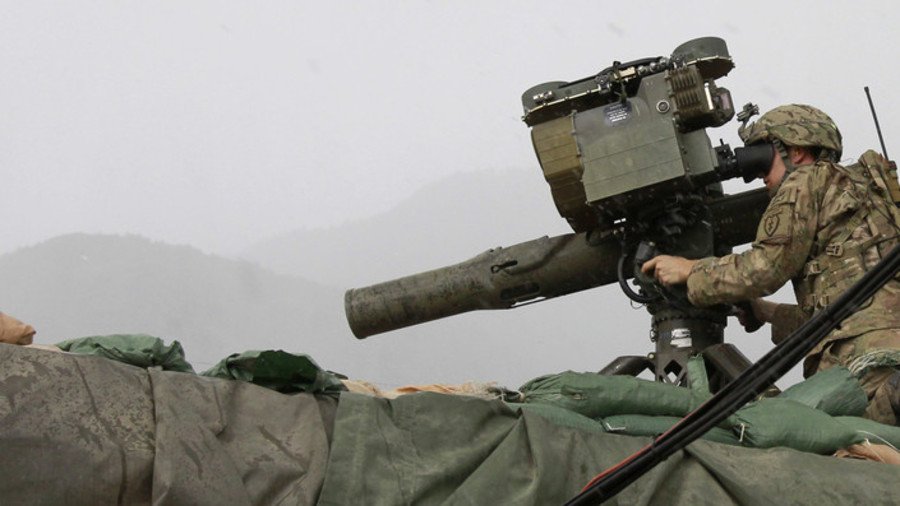 US-made TOW anti-tank missiles, along with other weapons, have been found in facilities once controlled by Al-Nusra militants in Syria's Homs province, the Russian Defense Ministry said.
The trove was located in a former observation point of the Al-Nusra Front terrorist group in the liberated Zaafaran settlement in Homs province, the Russian Center for Reconciliation in Syria said on Monday. "[We] can see here a large number of gas masks, weapons produced abroad, for example, TOW-2 anti-tank guided missiles. The facilities are very well-equipped," Andrey Nekipelov, an official at the center, stated.
The BGM-71 TOW (Tube-launched, Optically tracked, Wire-guided) is one of the most widely used anti-tank missiles, which has been produced in the US since the 1970s. The missile has an operational range of more than 3,000 meters and an armor penetration of up to 800 millimeters, depending on the model. The TOW-2 referred to by the Russian MoD is an advanced and upgraded version of the missile.
Hundreds of the missiles have fallen into the hands of various rebel factions during the Syrian conflict. The US-made TOW was reportedly used in an attack on an RT crew in Syria back in 2015.
In 2016, another video published by a Syrian rebel group showed what appeared to be a direct hit by a US-made BGM-71 TOW on the turret of a Russian-supplied T-90 tank of the Syrian Army. A TOW usually devastates its target after a direct hit, causing ammo to explode and killing the crew. The alleged T-90, however, seemed to have been saved by its reactive armor.
READ MORE: 105 hits in Syria? Not likely, says Russia & shows fragments of missiles downed in US-led strikes
TOW was reportedly deployed in the Vietnam War in 1970s, as well as in Afghanistan, Iraq, and a number of other conflict zones where Washington has been engaged in recent decades. Syria has become one of the recent locations where anti-tank missiles were spotted.
Speaking to RT back in 2016, German journalist Jurgen Todenhofer suggested that the US knows that the weapons it delivers to rebels end up with terrorists. "Everybody knows that they are using allies and they are allowing allies... It doesn't matter if a TOW rocket or a TOW missile, which is an American missile, comes [to terrorists] from another group," he said at the time.
Think your friends would be interested? Share this story!
You can share this story on social media: