Iraq's new 'Kingmaker?' Nationalist, anti-American cleric scores big parliamentary win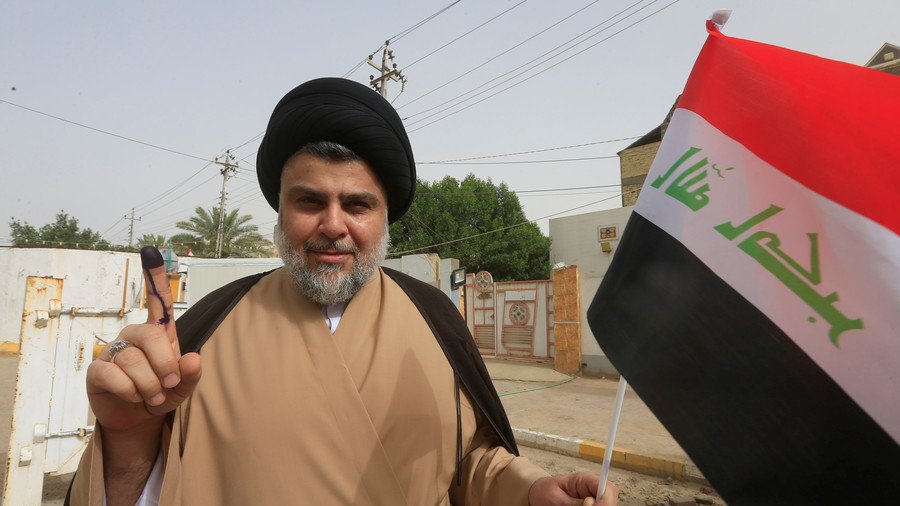 A Shia cleric with strong anti-American views is poised to become kingmaker in Iraq. Muqtada al-Sadr's coalition emerged victorious in parliamentary elections, signaling a resurgence in Iraqi nationalism, analysts told RT.
Al-Sadr's Sairoon Alliance capitalized on widespread anger over foreign influence and unchecked corruption in Iraq, securing a surprise victory over Iran-backed Shia militia chief Hadi al-Amiri's Fatah (Conquest) Coalition, and US-backed Prime Minister Haider al-Abadi's Nasr (Victory) Coalition.
Anti-America (and corruption) crusader?
The prominent Shia cleric is an outspoken critic of US military presence in Iraq, even leading two revolts against American-led forces after their 2003 invasion. At the same time, al-Sadr is also opposed to Iranian influence in Iraq. His ability to appeal to Iraqis' sense of nationalism seems to be the main driving force behind his coalition's unexpected parliamentary victory.
"On the one hand, for example, we see the Nouri Maliki faction is pro-Iranian, as for al-Abadi, it's the pro-American one, and Muqtada is trying to play off the two groups. That is why many Baathists and communists supported his [bloc]," Dr Jamal Wakeem, professor of history and international relations at Lebanese University in Beirut, told RT.
A former UN spokesperson for Iraq, Said Arikat, however believes that anger over corruption – and not al-Sadr's anti-American views – was the biggest factor in his electoral success. Although al-Sadr's coalition is "made up of people who have very strong anti-American views… Iraqis feel let down and have had it with the corruption of their government. So that's the bottom line. He was elected not because of his anti-American stance, but because of his position on corruption," Arikat told RT.
The kingmaker, but not the king?
Despite being the biggest winner in last weekend's elections, Sairoon Alliance still gained only 54 seats in the 329-seat parliament – meaning it will have to negotiate with other blocs to form a new government.
While al-Sadr himself did not run for office – disqualifying himself as head of the government – his party's parliamentary upset will make him a kingmaker of sorts. However, any nominee he puts forward will have to be approved by the other winning blocs. Iraqi law gives the political groups 90 days to form a parliamentary majority and select their leader.
By Sunday, Sadr had already held a meeting with Amiri as part of inclusive coalition talks. "The process of government formation must be a national decision and importantly, must include the participation of all the winning blocs," Sadr's office said.
Al-Sadr essentially has the "power of veto" as parliament attempts to form a new government, Wakeem said, adding that while he will be unable to "impose his will" on parliament, his will nonetheless be able to "magnify the influence of his bloc in parliament by playing on the contradictions of the various blocs." Ultimately, the new Iraqi government will "reflect this split influence between Iran on one hand, and the United States on the other."
"He'll have a great deal of influence – but I don't know how much control," Arikat told RT, noting that, as a prominent cleric, al-Sadr already enjoys considerable political sway. "He will have to coexist with many groups… In this particular instance, he will be the kingmaker, and not the king."
Will anything change?
While the parliamentary victory of a nationalist cleric who participated in an armed insurgency against the US military sounds like a radical change of course for Iraq, analysts cautioned against jumping to any conclusions.
"I don't think it will change much on the political map in Iraq. Muqtada himself has diverse relations, mainly with factions in Iran, and he has links to Saudi Arabia," Wakeem told RT. "I don't believe that Iraq, after the American invasion, [is still] a regional player. It has become an arena of competition between various players – not a player by itself."
Arikat said that it was still too soon to say whether Sairoon's victory marks a turning point in Iraqi politics, noting that voter turnout was low.
Concerns that al-Sadr's critical view of the Kurds will be reflected in Iraqi policy going forward are also far-fetched, both analysts argued. Al-Sadr "won't be a good friend of the Kurds" but it's unlikely that his personal views will radically alter Iraqi policy, Wakeem said.
"[Kurdish] interests lie with a unified Iraq, being a member of Iraq. So that, by itself, will serve to diffuse any tensions that can potentially arise between al-Sadr and the Kurds," Arikat told RT.
Former US ambassador to Iraq, James Jeffrey, found comfort in the fact that, while the "US has not had a good day" in Iraq, neither had Iran. But some Western analysts have been expressing panic over the election results. Former US Air Force intelligence officer and CNN contributor, Rick Francona, lamented on Twitter that al-Sadr's victory "will be a major setback for American foreign policy in Iraq and by extension, Syria," adding that with al-Sadr's bloc at the helm, Iraq will now likely "demand the withdrawal of American/coalition forces from the country."
"Americans died fighting this man's militia. Now he's a kingmaker in an Iraq dominated by Iran," echoed intelligence and national security reporter for the NBC News Investigative Unit, Ken Dilanian. "The US spent $1 trillion on this war. What folly. What waste."
Like this story? Share it with a friend!
You can share this story on social media: