Man injured by lava during eruption in Hawaii, experts call for wider evacuations (VIDEOS)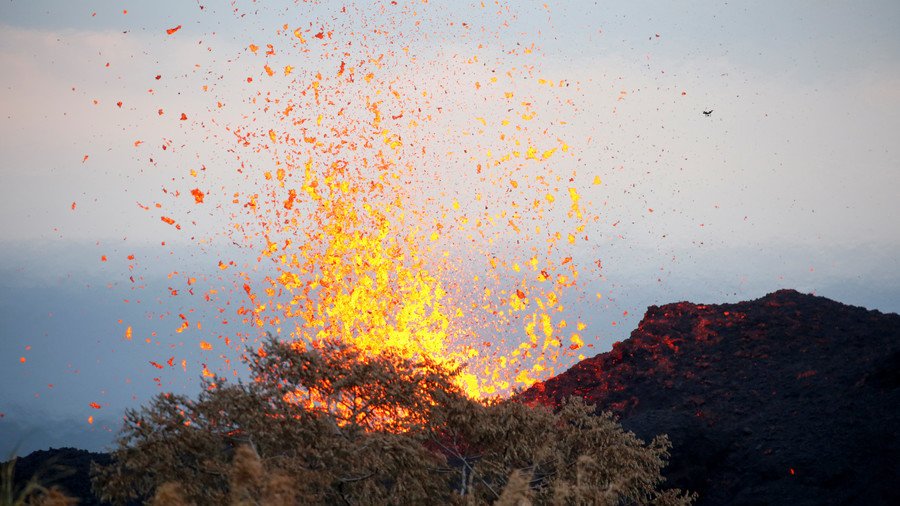 Lava bursts from Kilauea volcano on Hawaii's Big Island hit a local resident. Volcanologists have advised wider evacuations as lava discharge quickens and threatens to cut off an escape route from lower Puna.
The man, who is now hospitalized, was standing on his third-floor balcony on Saturday evening when he was struck by a splatter launched into the air from the volcano's crater, Hawaii News Now channel reports.
"It hit him on the shin, and shattered everything from there down on his leg," said Janet Snyder, a spokesperson for the Office of the Mayor, County of Hawaii.
Meanwhile, the flows of lava have reached Highway 137, threatening to cut off the escape route from lower Puna. While there is no immediate threat to the public, lava discharge is quickening.
Earlier on Saturday, the County of Hawaii Civil Defense announced, the flow of lava on parts of the Big Island was advancing at a pace of 1,000 feet per hour.
A helicopter was deployed to airlift four people to safety, and at least four homes were destroyed in lower Puna on Friday night and early on Saturday morning.
"Residents between Kamaili and Pohoiki are advised to decide if they want to voluntarily leave the area at this time," authorities added, while stopping short of ordering mandatory evacuations.
The Hawaiian Volcano Observatory continues to monitor the lava flows from some 22 cracks that have opened since May 3. As the lava is moving in the direction of MacKenzie State Park, locals are being advised to consider voluntarily evacuating.
However, some people have instead been flocking straight to the source, risking their lives to snap astounding and captivating pictures and videos of the natural phenomenon.
"There is much more stuff coming out of the ground and it's going to produce flows that will move much further away," said US Geological Survey scientist Wendy Stovall on a conference call with reporters, Reuters reports.
If you like this story, share it with a friend!
You can share this story on social media: