Ivanka and Jared meet Rabbi who called blacks 'monkeys,' reportedly get blessed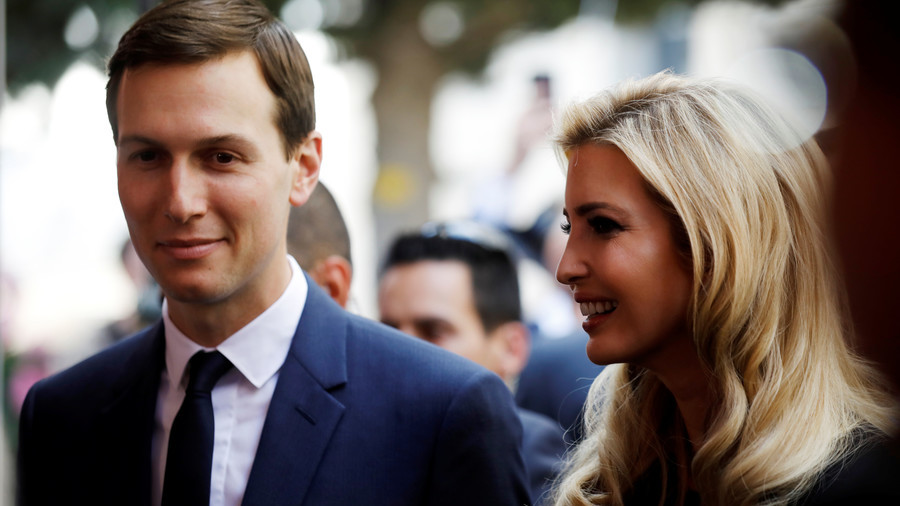 Ivanka Trump and husband Jared Kushner, in Israel to open the US Embassy in Jerusalem, have been reportedly blessed by a Rabbi who compared black people to "monkeys," and immodestly dressed women to "animals."
Since landing Sunday afternoon, Trump and Kushner's schedule included a meeting with Israel's Chief Sephardic Rabbi Yitzchok Yosef. According to one Jewish Insider reporter, Yosef gave the couple "a blessing."
During a sermon earlier this year, Yosef described black people as "monkeys," and used the derogatory Hebrew word "kushi" to describe them. While the word originated in the Bible, it is today considered an offensive term for Ethiopian Jews.
The Rabbi's office claimed that Yosef was quoting a passage from the Talmud, and that he meant no offense.
Yosef also caused a stir in 2016 when he suggested that non-Jews who refuse to follow Jewish law should be expelled to Saudi Arabia. Yosef, who, along with Ashkenazi Chief Rabbi David Lau, presides over many aspects of Jewish personal and religious life in Israel, also called immodestly dressed women "animals" and railed against smartphones, which he sees as heretical.
The Rabbi's comments were condemned by the Anti-Defamation League as "racially charged" and "utterly unacceptable." His meeting with Trump and Kushner drew fire on Twitter, too:
The relocation of the US Embassy to Jerusalem comes after President Donald Trump's decision last year to recognize the holy city as Israel's capital. The move coincides with the 70th anniversary of the founding of the State of Israel. Monday's opening ceremony, however, comes just one day before Nakba Day, a commemoration of the forced displacement of some 700,000 Palestinians.
Monday's ceremony was marred by clashes between Israelis and Palestinians at the holy site of the Temple Mount in East Jerusalem. Israeli forces also cracked down on Palestinian demonstrations at the border fence in Gaza, and 55 protesters have been killed, according to the Palestinian Health Ministry. The Israeli Defence Forces have dropped leaflets warning Palestinians to stay away from the border.
In addition, the preacher chosen to lead Christian prayers at the embassy's opening ceremony is Dr. Robert Jeffress, a militant Baptist with a history of inflammatory statements.
Jeffress once called Islam a "false religion inspired by Satan himself," and the Catholic Church a "cult" whose rise to power was attributed to "the genius of Satan." Jeffress also once suggested that the 9/11 attacks may have been God's punishment for abortion laws in the US.
President Trump used his Twitter handle last October to promote a new book by Jeffress, calling him "a wonderful man."