Infamous Islamophobe pastor picked to pray at US embassy opening in Jerusalem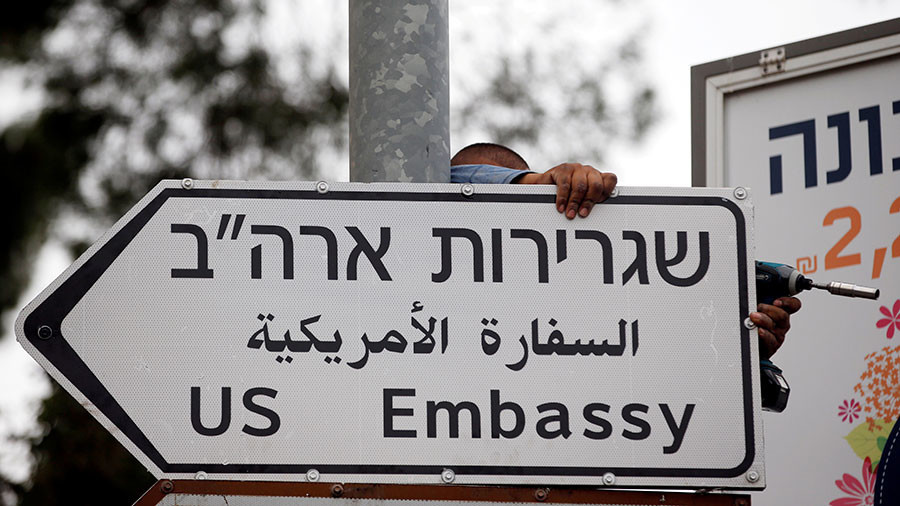 The man picked to lead a prayer at Donald Trump's much-vaunted opening of the US Embassy in Jerusalem, is a militant Baptist preacher, known, among other things, for calling Islam's Prophet Muhammad "a bloodthirsty warlord."
As if Monday's relocation of the US Embassy in Israel to Jerusalem needed more controversy, the priest picked to lead a prayer at the unveiling ceremony is Dr. Robert Jeffress, a megachurch Baptist preacher from Dallas and long-time supporter of Donald Trump. Jeffress, who is also a Fox News contributor, announced that he was picked for the occasion in an recent interview with Fox&Friends.
Jeffress has quite the track record of extreme religious intolerance and is known for labeling just about any religion other than his own as heresy. While the pastor has targeted almost every religion, the most scathing of his numerous attacks have taken aim at Islam. Arguing that Islam as a religion is inherently violent, Jeffress said during one TV debate that prophet Muhammad "was nothing but a bloodthirsty warlord who beheaded 600 Jews who would not follow him into battle."
"Jesus, the founder of our faith, didn't kill anybody. He was crucified, but you look in the Quran, you can find 35 sword verses," he told an imam during a debate hosted by Fox News in 2016.
During a sermon at a First Baptist Church in 2015 in the wake of the Paris terror attacks, the pastor said that the time had come to "lay aside political correctness and identify the belief system that is responsible for these horrific acts. And that is the evil, evil, evil religion of radical Islam." Jeffress continued his tirade before ultimately saying Islam was a " false religion inspired by Satan himself."
Non-Baptist Christian denominations haven't escaped Jeffress' castigations either. He once compared the Catholic Church to a "cult" which was the result of the "corruption" of an early Christian church by "a Babylonian mystery religion." He attributed its rise to none other than "the genius of Satan."
His apparent grudge against Catholics forced White House spokesperson Sarah Huckabee Sanders to defend Jeffress after she was asked as to why a "viciously anti-Catholic" pastor's book gets an endorsement from President Trump.
Trump used his Twitter handle last October to promote a new book by Jeffress, calling him "a wonderful man."
Jeffress, who was involved with Trump campaign since 2015, has been a part of Trump's inner circle and addressed his family in private just before the inauguration.
The pastor's less than favorable views of the Mormon religion have also been widely publicized. Opposing Mitt Romney's nomination, Jeffress said in 2011 that he sees Mormonism as a "theological cult," and not a real religion, as he was rallying behind governor Rick Perry during 2012 presidential race.
He also complained about how the "consumer mentality of the church" betrays its core beliefs for the sake of luring more people. The pastor argued that if one abides by the Bible, "every other religion in the world is wrong" – including Judaism.
"Islam is wrong, it is a heresy from the pit of Hell; Mormonism is wrong, it is a heresy from the pit of Hell; Judaism, you can't be saved being a Jew, you know who said that by the way, the three greatest Jews in the New Testament, Peter, Paul, and Jesus Christ, they all said Judaism won't do it, it's faith in Jesus Christ," he said in a televised interview in 2010
Jeffress has been widely known for his anti-gay and anti-abortion views. He even once suggested that the 9/11 terrorist attacks might have been God's punishment for abortion laws in the US.
"Just read the Bible, God will not allow sin to go unpunished and he certainly won't allow the sacrifice of children to go unpunished," he said in 2015.
The choice of the divisive pastor for the mission ignited a firestorm on Twitter, with many voicing their outrage over the move. Former Republican presidential candidate Mitt Romney became one of the people to take issue with Jeffress' incendiary remarks.
"Such a religious bigot should not be giving the prayer that opens the United States Embassy in Jerusalem," he wrote.
Robert Jeffress says "you can't be saved by being a Jew," and "Mormonism is a heresy from the pit of hell." He's said the same about Islam. Such a religious bigot should not be giving the prayer that opens the United States Embassy in Jerusalem.

— Mitt Romney (@MittRomney) May 14, 2018
Dallas Pastor Robert Jeffress will be leading the prayer at the declaration of the new Jerusalem embassy tomorrow. Waiting for all you woke Dallas folk and progressives to be outraged.

— Omar Suleiman (@omarsuleiman504) May 12, 2018
Robert Jeffress, the extremist pastor Trump has chosen to open the ceremonies for our new embassy in Jerusalem, has called Mormonism and Islam "cults from the pit of hell." What could possibly go wrong?

— Laurence Tribe (@tribelaw) May 13, 2018
Think your friends would be interested? Share this story!
You can share this story on social media: