Israeli police use stun grenades against ultra-Orthodox rioters in Jerusalem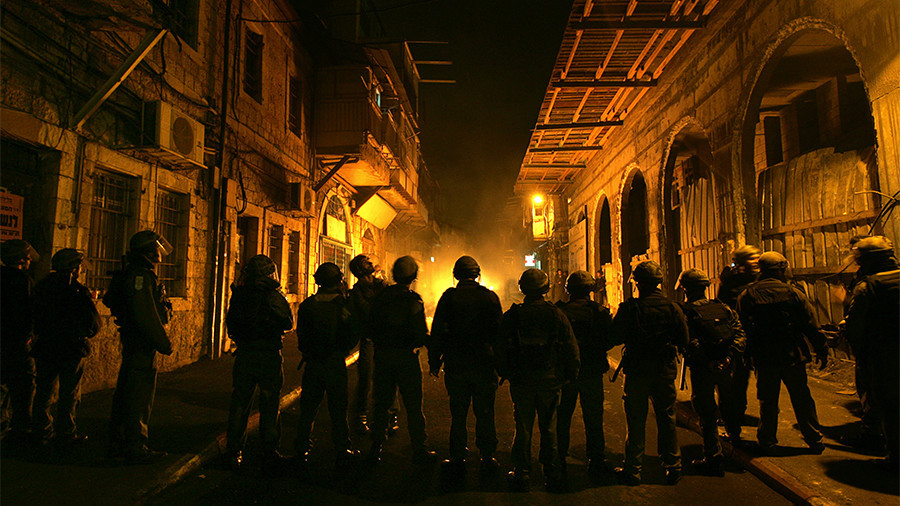 Israeli police launched stun grenades at hundreds of ultra-Orthodox Jews in Jerusalem, who were protesting against plans to arrest a female draft-dodger.
Police spokesman Micky Rosenfeld said that law-enforcement units dispersed rioters 'with stun grenades' after four policemen sustained minor injuries in clashes.
Police units in Jerusalem dispersed an ultra religious illegal demonstration with stun grenades after 4 police officers were injured lightly

— Micky Rosenfeld (@MickyRosenfeld) 15 апреля 2018 г.
The protests were triggered by the decision to arrest an ultra-Orthodox girl for not presenting herself to deal with her draft notice. The decision triggered public outrage and hundreds took to the streets to riot outside the IDF draft office in Jerusalem on Sunday night.
One of the strongest military powers in the Middle East, Israel requires both men and women to serve in the military upon reaching the age of 18. While men are supposed to serve for two years and eight months, women are expected to serve for two years. That law, however, does not apply to ultra-Orthodox Jews. As members of a radical fringe of the religious population, ultra-Orthodox men can be excused from military service on condition that they are engaged in religious study. Young men must report to the army to receive a deferral of service, which Jerusalem faction leaders have defied and some seminary students have refused to do also.
The issue of the ultra-Orthodox exemption from military service was brought up again in March and resulted in a clash of opinions which almost brought down the right-wing government of Israeli Prime Minister Benjamin Netanyahu.
The government compromised by offering controversial legislation that allows ultra-Orthodox Jews to be largely exempt from enlisting in the IDF.
Known for strictly observing the rules of Judaism in all aspects of daily and spiritual life, the ultra-Orthodox vowed to "fearlessly defend the walls of true Judaism" and continue serving their society through prayer.
The reason for the girl's arrest was her 'not religious' appearance which does not conform with the strict ultra-Orthodox rules, ultra-Orthodox newspaper, Behadrei Haredim, reported. Judging by her Facebook photos, in which she wore 'revealing clothing,' she did not appear to show that she outwardly adhered to a religious lifestyle and was therefore suspected of draft-dodging, the paper said.