Tesla with self-driving capability crashes into fire truck, investigation launched (PHOTO)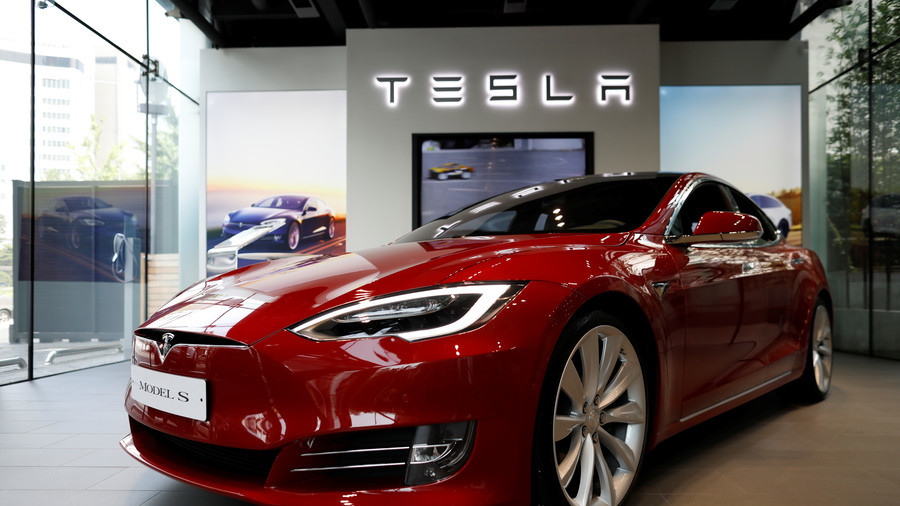 An investigation has been opened after a Tesla Model S, which can be driven autonomously, crashed into the back of a fire truck in Utah. It comes amid two separate probes involving fatal Tesla crashes.
The incident occurred in the Salt Lake City suburb of South Jordan on Friday, when the Tesla S slammed into a fire department's mechanics truck while it was stopped at a red light.
"For unknown reasons, the Tesla failed to stop for the traffic at the red light and ran into the back of the Unified Fire Authority vehicle at 60 miles per hour," Sergeant Samuel Winkler of the South Jordan Police Department said, according to Fox 13. Authorities said they have been in contact with the National Transportation Safety Board (NTSB) about the crash, AP reported.
Although the Model S can be driven autonomously, it remains unclear whether the car's autopilot feature was turned on at the time of the crash. That feature uses cameras, radar, and computers to maintain speed, changes lanes, and stop. However, Tesla has warned that drivers must still keep their eyes on the road and hands on the wheel in order to prevent accidents from taking place.
The NTSB is already investigating two fatal incidents involving Tesla vehicles. One of those happened on Tuesday, when a Model S crashed into a concrete wall and caught fire in Florida. The driver and his passenger, both 18-years old, were killed. The agency and Tesla have both stated that they do not believe the accident was caused by the car's autopilot feature.
Meanwhile, a Model X crash in California in March led to the death of the driver, with Tesla stating that the accident could have only occurred if the driver was not paying attention, noting that he was given warning to put his hands on the wheel in the seconds before the crash.
In a conference call earlier this month, Tesla CEO Elon Musk slammed journalists for reporting on the dangers of autonomous vehicles. "It's really incredibly irresponsible of any journalists with integrity to write an article that would lead people to believe that autonomy is less safe. Because people might actually turn it off, and then die. So anyway, I'm really upset by this," he said.
If you like this story, share it with a friend!
You can share this story on social media: