Trump & Bolton call for regime change in Iran even as they speak of peace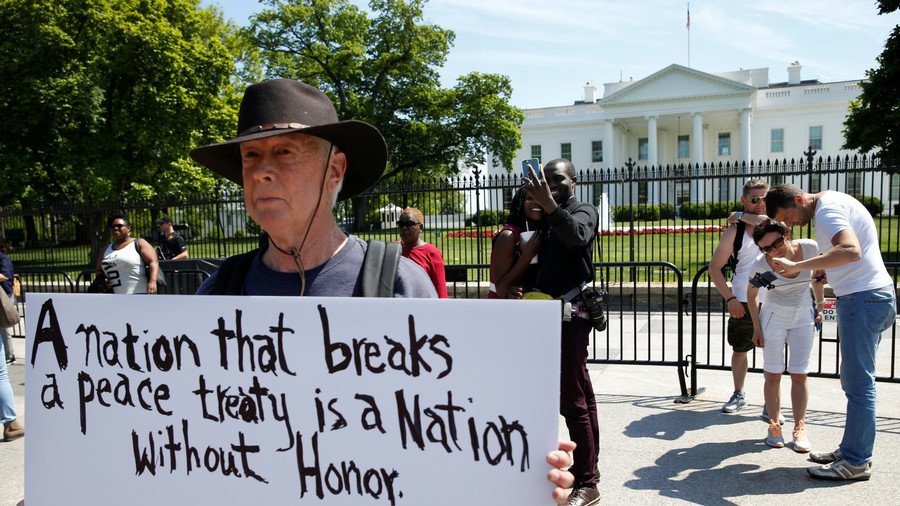 White House National Security Adviser John Bolton says the US withdrawal from the Iran nuclear deal is not a step towards a policy of regime change in Tehran. His own record and President Donald Trump's words suggest otherwise.
Those who believe that pulling out of the nuclear deal is a precursor for US boots on the ground in Iran "would be badly mistaken," Bolton said at a White House press briefing on Tuesday, just minutes after Trump's announcement that the US would be leaving the 2015 agreement.
The morning after, however, Bolton was accusing Iran of provoking a war, accusing Tehran of deploying missiles in Syria that could hit Israel.
"I think Iran is bringing us close to war with its belligerent activity in Iraq and Syria," he told CBS This Morning on Wednesday. "It's that aggressive militaristic behavior by Iran on the ground in the region that's the real threat."
Are you concerned this could bring us closer to war with Iran? They are already chanting 'Death to America.' -- @GayleKing"I don't think it will bring us closer, I think Iran is bringing us closer to war with its belligerent activity in Iraq and Syria." -- @AmbJohnBoltonpic.twitter.com/YfcPLBpLma

— CBS This Morning (@CBSThisMorning) May 9, 2018
The mustachioed former US envoy to the UN has long advocated for regime change in Tehran - notably in last year's speech at the Grand Gathering of Iranians for Free Iran.
"Even if somebody said to you that the regime was in full compliance with the nuclear deal, it doesn't make any difference," he remarked. The only solution to the problem of possible Iranian nuclear weapons "is to change the regime itself." Bolton even set the date for regime change, saying that it was due to happen before 2019.
In March 2015, as the Obama administration was negotiating the nuclear deal, Bolton penned an op-ed for the New York Times with the unambiguous title, "To Stop Iran's Bomb, Bomb Iran."
In January this year, Bolton contributed another op-ed, this time to the Wall Street Journal, arguing that the US policy should be to "end the Islamic Republic before its 40th anniversary."
"Recognizing a new Iranian regime in 2019 would reverse the shame of once seeing our diplomats held hostage for four hundred and forty-four days," Bolton wrote, adding that "former hostages can cut the ribbon to open the new US Embassy in Tehran."
Bolton's position appears to reflect a hard line in Washington, which still has not forgiven Iran for overthrowing the US-backed monarchy in 1979 and replacing it with a religious republic. What of Trump, however?
The US president famously campaigned on abandoning foreign wars, nation-building, occupations and regime change in favor of putting "America first." He was also a vocal critic of the 2003 US invasion of Iraq, which Bolton has supported.
Since taking the oath of office, however, Trump has allowed himself to be persuaded to stay in Afghanistan and bomb Syria ‒ twice. Trump has also frequently repeated a talking point of neoconservatives, Israel and Saudi Arabia, that Iran had imperialist designs for the Middle East and fingers everywhere, from Lebanon to Yemen.
"There has been enough suffering, death, and destruction. Let it end now," Trump said in Tuesday's announcement, offering to negotiate a "new and lasting deal" with Iran whenever Tehran was ready.
While that sounds conciliatory, in the very same speech Trump denounced the Iranian government as a "dictatorship" that "seized power and took a proud nation hostage" almost 40 years ago, and he claimed that before then Iran had "prospered in peace with its neighbors and commanded the admiration of the world."
The "Iranian regime… funded its long reign of chaos and terror by plundering the wealth of its own people," Trump said, ending the speech by saying that Iranians "deserve a nation that does justice to their dreams, honor to their history and glory to God."
If that doesn't sound like an endorsement of regime change, it's hard to imagine what does.
Think your friends would be interested? Share this story!
You can share this story on social media: