Uber and the US Army team up to make flying cars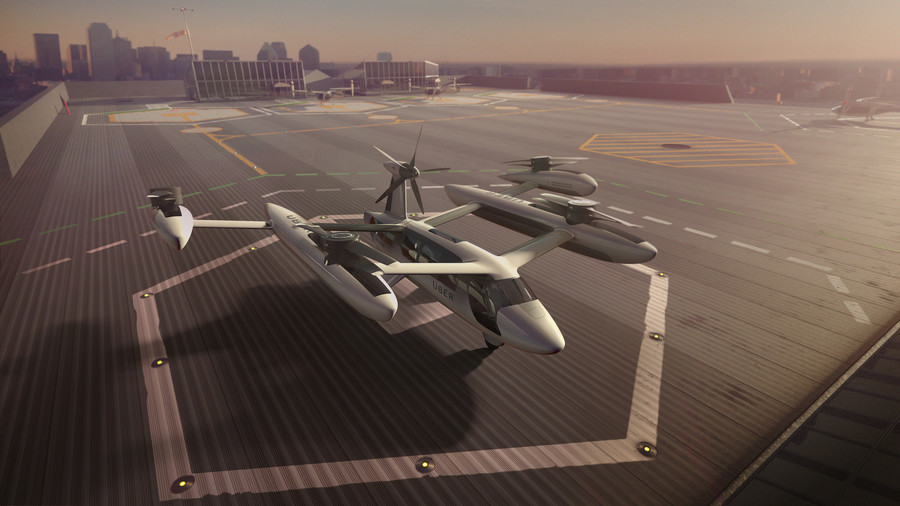 The US Army and ridesharing company Uber have signed an agreement to develop technology that could be used for flying cars – or military aircraft.
Uber and the US Army Research, Development and Engineering Command said that they would be spending $1 million to develop and test a rotor system that could allow vertical takeoff and landing. By utilizing two rotors stacked on top of each other and rotating in the same direction, they hope to minimize operating noise.
The partnership was announced this week at the Uber Elevate Summit in Los Angeles, a two-day event showcasing flying car technology. Uber has already taken strides towards developing a network of flying taxis, and through more partnerships with government agencies, hopes to launch a prototype of a flying taxi by 2020, Reuters reported.
The company's Uber Air service is set to launch first in Dallas and Los Angeles. Speaking to CBS News, Uber CEO Dara Khosrowshahi said that the company aims to eventually make airborne taxis affordable for the masses.
"We want to create the network around those vehicles so that regular people can take these taxis in the air for longer distances when they want to avoid traffic at affordable prices," he said.
The rideshare company already has a partnership with NASA to develop software to manage large fleets of airborne vehicles over cities. Among the Elevate Summit's speakers are two NASA scientists, Dr. Jaiwon Shin and Dr. Parimal Kopardekar, as well as US Secretary of Transport Elaine Chao, Federal Aviation Administration administrator Dan Elwell and a host of political and aviation industry heads.
The partnership between Uber and the Army is the latest in a series of joint ventures between the Department of Defense and the technology industry. The Defense Advanced Research Projects Agency (DARPA) has sponsored competitions to develop autonomous vehicles since 2004.
More recently, under 'Project Maven,' artificial intelligence technology developed by Google is being used by the military to identify targets in drone footage.
In April, 3,000 Google employees signed a letter urging the tech giant to break its 'Project Maven' contract with the Pentagon and urged their employer to not "ever build warfare technology."
Meanwhile, the Pentagon's own work on the vehicles of the future continues. Last month, Michael Griffin, the undersecretary of defense for research and engineering, told a hearing on Capitol Hill that the US Army was beating the likes of Uber and Tesla in the race to build reliable self-driving vehicles.
"We're going to have self-driving vehicles in theater for the Army before we'll have self-driving cars on the streets," he said. "But the core technologies will be the same."
Like this story? Share it with a friend!
You can share this story on social media: