Pompeo jets to Pyongyang as Trump holds out for North Korea nuke deal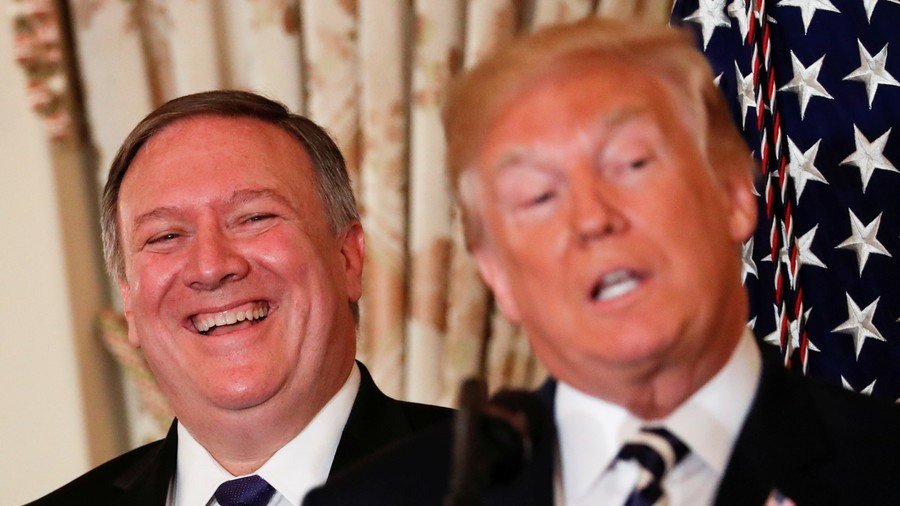 US President Donald Trump has announced that Secretary of State Mike Pompeo is jetting in to meet Kim Jong-un after announcing the withdrawal from Iran nuclear agreement.
The decision to withdraw the US from a framework designed in 2015 to limit Iran's nuclear enrichment capabilities will now see the Islamic nation hit with the highest level of sanctions, Trump stated on Tuesday.
READ MORE: 'US mainland in our nuclear strike range', Kim Jong-un warns in New Year's speech
However, in announcing an end to what he described as a "decaying and rotten structure," the US president also surprised reporters by revealing that Mike Pompeo was on a plane to North Korea.
President Trump is terminating the United States' participation in the Joint Comprehensive Plan of Action (JCPOA) with Iran and re-imposing sanctions lifted under the deal. https://t.co/ACJODlAw0p

— The White House (@WhiteHouse) May 8, 2018
"The US no longer makes empty threats. When I make promises, I keep them. In fact at this very moment secretary [Mike] Pompeo is on his way to North Korea in preparation for my upcoming meeting with Kim Jong Un," Trump said at a White House press conference.
"Plans are being made, relationships are building, hopefully a deal will happen and with the help of China, South Korea and Japan a future of great prosperity and security can be achieved for everyone," the president added.
Pompeo is hoping to finalize an agenda for talks in Pyongyang. The secretary of state said he hoped North Korea will "do the right thing".
A summit between Trump and North Korea's leader Kim Jong Un has long been mooted, with the pair set for the first diplomatic meeting between the two nations later this month.
Such a summit would likely see nuclear arms discussed, with both Trump and Kim Jong Un making astonishing missile threats against one another's respective nations last year.
You can share this story on social media: