Star Wars coming? Trump 'seriously' considers creating US Space Force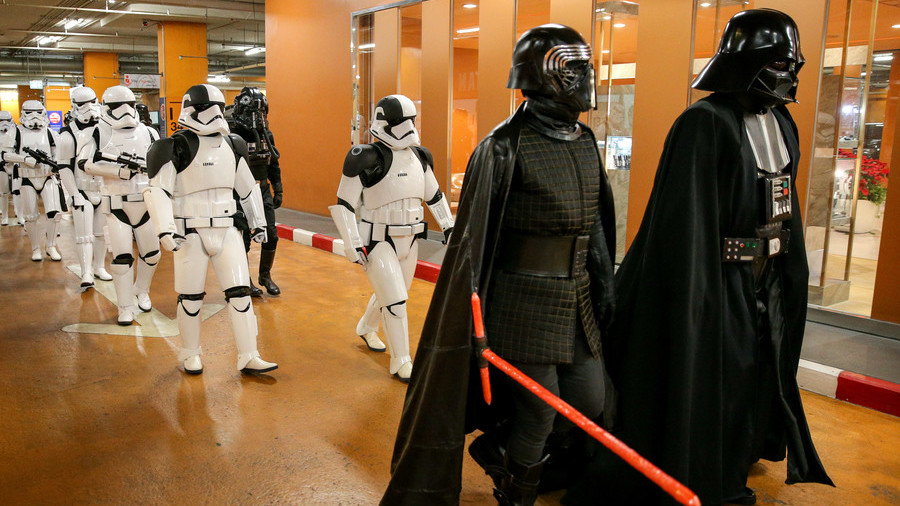 Despite the mockery on social media, US President Donald Trump apparently has not rejected an idea of creating a Space Force. He said he is "seriously thinking" about making it a new military branch.
"We are actually thinking of a sixth [military branch], and that would be the Space Force," the US leader said during a ceremony at the White House. He was presenting the annual Commander-in-Chief's Trophy to the Army football team, for its victory over both Air Force and Navy last year. Trump went on to say that the US is "getting very big in space, both militarily and for other reasons," without going into further details.
"We are seriously thinking of the Space Force," the US leader said on Tuesday. He already floated the same idea back in March as he spoke to a crowd of Marines at Miramar Air Station in San Diego, California. At that time, he said that his national strategy sees the space as a "war-fighting domain, just like the land, air and sea."
The idea, however, hardly resonated with the general public as people turned to the social media to have a good laugh at it. The reaction was no different this time, as people once again started to post memes and reference to popular sci-fi movies.
President Trump Is Creating A Space Force Made Up Of The Very Best Pilots From The Rebel Alliance, The United Federation Of Planets, And The U.N. Spacy From Macross pic.twitter.com/VKdMHyj50i

— Willybobo (@fakingstarwars) May 1, 2018
I see Trump is back at his truly terrific idea of a Space Force again.Because who the hell cares about space unless you can make money destroying it with weapons of war. 🙄 pic.twitter.com/KZjp04Njj9

— Kaz Weida (@kazweida) May 1, 2018
Even some Army football players who were present at the ceremony seem to have found it difficult to take Trumps' words seriously.
The looks on the faces of these Army football players when Donald Trump starts talking about the "Space Force" again have me dying 😂☠ pic.twitter.com/bhese16qds

— Josh Sánchez (@jnsanchez) May 1, 2018
Some people on the social media, however, took the news more seriously and drew attention the fact that there is actually an international treaty that limits military activities in space. The US has been a party of this treaty since 1967.
Trump again blathering about a military Space Force.Does Donald Trump know about The Outer Space Treaty of 1967?Does Donald Trump know anything?All around Trump are also clueless?#SpaceForcepic.twitter.com/Y5fffVPhj3

— You Were Warned (@RufusKings1776) May 1, 2018
Say what? Trump said we are creating a 6th branch.. "Space Force"..Dude, there is a treaty out there. OUTER SPACE TREATY: 105 sovereign countries signed it and 20+ are in the process of completing ratification..DUDE, ask questions first.. or GOOGLE! pic.twitter.com/ushHuvnqQO

— ALT- Immigration 🛂 (@ALT_uscis) May 1, 2018
The agreement, called the Outer Space Treaty, bars states from testing any weapons in the outer space as well as from establishing military bases on the Moon and other celestial bodies. It also prohibits deployment of any weapons of mass destruction to the Earth's orbit.
Like this story? Share it with a friend!
You can share this story on social media: