Starship troopers? Trump eyes space force, calls cosmos 'war-fighting domain'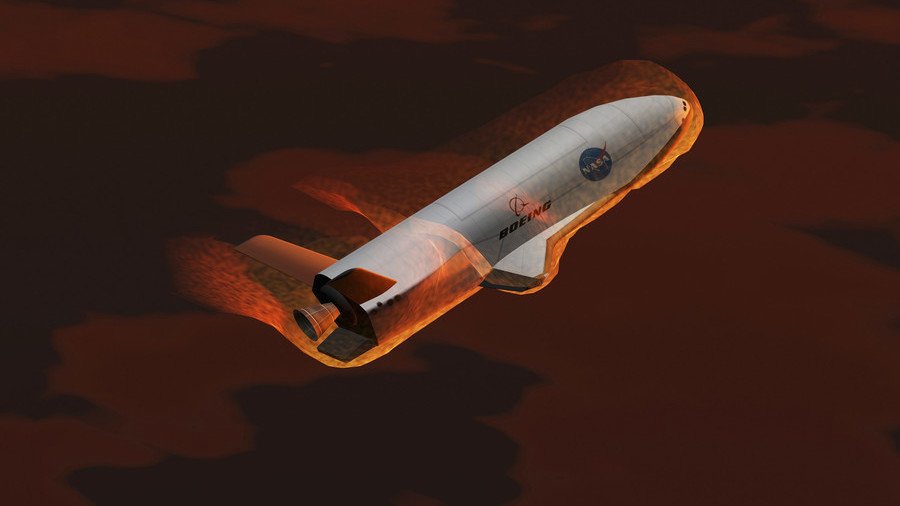 US President Donald Trump has floated the creation of a Space Force, a new military branch to utilize outer space as a "war domain," just like land, air or sea. Apart from that, he promised the Americans will soon reach Mars.
Speaking to a crowd of Marines at Miramar Air Station in San Diego, California, Trump said his administration may consider establishing what he termed the "Space Force." The new arm of the US military would operate just like the Army or Air Force, only in outer space.
"My new national strategy for space recognizes that space is a war-fighting domain, just like the land, air and sea. We may even have a Space Force. We have the Air Force. We will have a Space Force," Trump said, as quoted by AP.
Noting that many service members, including sailors, airmen and marines, had become astronauts in the past, Trump said the military "will be vital to ensuring America continues to lead the way into the stars."
It's unclear, however, if Trump's words can be taken at face value or if he was just baiting the media. The president went on, telling the audience that when he first entertained the idea he first thought it was no more than a joke.
"You know, I was saying it the other day 'cause we're doing a tremendous amount of work in space," Trump revealed. "I said, 'Maybe we need a new force. We'll call it the space force.' And I was not really serious, and then I said 'What a great idea, maybe we'll have to do that.'"
This is not the first time the tycoon-turned-president has touted the militarization of space. Last year, he urged the "reclaiming [of] America's proud destiny in space," asserting that "space has so much to do with so many other applications, including a military application."
Some binding international agreements, such as the 1967 Outer Space Treaty, to which the US is party, prohibit the militarization of space as well as using Earth's orbit to install military objects and weapons systems. So far, no country has a military branch using space as an operational domain.
To set an example, Russia's Space Forces – part of the newly-created Aerospace Forces, which includes the Air Force – is tasked with protecting the country from inbound attacks originating from lower orbit. Its mission is limited to managing satellites, running missile-attack warning systems, as well as manning Russia's cosmodromes.
Now, Trump's space force speech had apparently made online users chuckle, with many of them mocking Trump's proposal in social media.
Now that Trump is going to create a space force, it's only a matter of time before soros and Hillary start funding aliens from outer space for the resistance. 🤔🙄

— PinkAboutIt 🇺🇸 (@Pink_About_it) March 14, 2018
Nevertheless, Trump went beyond the creation of a space force, vowing more innovative advancements such as the exploration of Mars – an achievement that he said would not have been possible if Hillary Clinton had won the 2016 election.
Last week, Trump hailed SpaceX founder Elon Musk, who said he hopes that the company will be able to launch test flights to the Red Planet by 2019.
"I don't know if you saw last with Elon – with the rocket boosters where they're coming back down," Trump said at the time. "To me, that was more amazing than watching the rocket go up because I've never seen that before. Nobody has seen it before, where they're saving the boosters. They came back without wings or without anything, they landed so beautifully."
However, Musk himself acknowledged that there were still technological difficulties hampering humans' efforts to successfully land on Mars.
If you like this story, share it with a friend!
You can share this story on social media: