'Tough crowd': Kids ask White House press secretary to justify Syria airstrikes (VIDEO)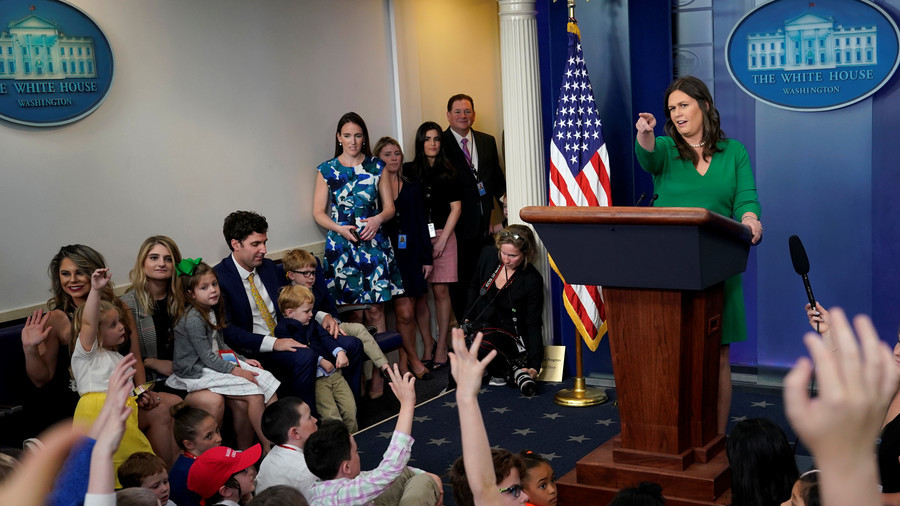 Budding reporters, aged from four to 13, took part in a mock White House briefing as part of Thursday's 'Take your child to work day' and showed they were not afraid to get stuck in at a press briefing.
One little girl tackled press secretary Sarah Sanders directly on Trump's decision to launch airstrikes on Syria. She asked: "Why did our country bomb another country?" Warding off any suggestions she was a possible plant, the girl added that she came up with her question all by herself.
"Why did our country bomb another country?""Why did Donald Trump fire James Comey?"Children put questions to the White House Press Secretary on Take Your Kids to Work Day pic.twitter.com/qhQKcffxaB

— Channel 4 News (@Channel4News) April 26, 2018
READ MORE: BBC Newsnight report into disinformation bares hallmarks of information warfare
"Man, this is a tough crowd," Sanders responded before attempting an explanation.
"The president wanted to make sure some of the people in the world that weren't being very nice to other people and did some really bad stuff that we made sure they knew that wasn't okay," she said. "So sometimes we have to take action like that to deter, which means prevent other countries from doing bad stuff. So that's what we were hoping to get accomplished."
The child's line of questioning bucks an apparent trend in American MSM. US media were widely supportive of Trump after he ordered the airstrikes, according to FAIR, a national media watchdog that challenges media bias.
I really want to know why nobody covered the "Why are we bombing other countries" kid at the briefing today. Only thing covered is the Comey question kid. If the parent of the anti war child wants to have play dates HMU (nobody is covering so I don't know who it was). 😂

— Cassandra NoWar Fairbanks (@CassandraRules) April 27, 2018
Another child asked Sanders why Trump fired former FBI Director James Comey. Sanders immediately quipped "who's your mom or dad?" She then suggested Comey had made it clear during his media tour why it was probably not a good idea for him to work for the FBI anymore.
"He did some things that weren't really very nice and probably not right for the top law enforcement agency," she responded.
READ MORE: Washington politicians call a truce for 'take your child to work' day
Among the other questions posed were, "how can you make our schools better?" But there were some lighter queries about Trump's favourite candy and animal. Sanders later turned the discussion to the UK, revealing that Trump will travel there to meet Prime Minister Theresa May on July 13.
Trump, who has been vocal in his criticism of US MSM outlets, also met with the children and proclaimed they were asking better questions than their parents. "Your parents are being very nice right now, I can't believe it! Because they don't want to embarrass themselves in front of you," he remarked.
Think your friends would be interested? Share this story!