Washington politicians call a truce for 'take your child to work' day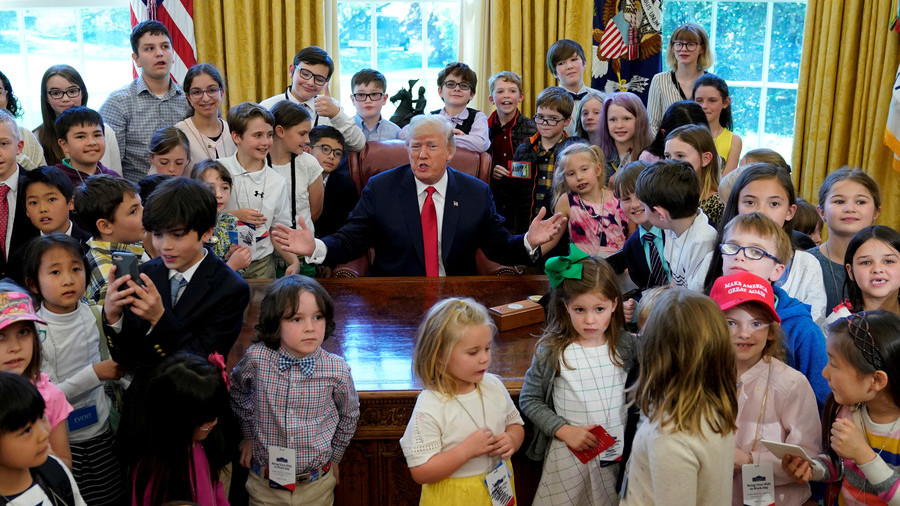 From President Donald Trump and his cabinet to opposition Democrats, politicians across Washington celebrated the annual "take your child to work" day by staying on their best behavior while hamming it up for the kids.
Trump was having fun showing the children of the White House staff and press corps the Oval Office. Being Trump, he still got a dig in, telling the tykes that their parents were "behaving very nicely for a change."
White House Press Secretary Sarah Huckabee Sanders even took questions from the "junior" press corps.
Trump's critics did not miss the opportunity to point out on social media that every day is "take your children to work" day for him - whether at the White House, where his daughter Ivanka is a special adviser, or at the Trump Organization, which is currently run by his sons Eric and Donald Jr.
Over at the State Department, spokeswoman Heather Nauert and Under Secretary Tom Shannon "swore in" the kids as junior diplomats.
Meanwhile, on Capitol Hill, House Minority Leader Nancy Pelosi (D-California) channeled Santa Claus, dressing in red and bouncing some toddlers on her knee.
Senator Kamala Harris (D-California) posted a picture of a staff member's daughter in dazzling face paint.
Her colleague, Senator Tammy Duckworth (D-Illinois), already made history last week, bringing her newborn baby Maile to the Senate floor. On Thursday, Duckworth took Maile to be "deputized" as a junior Capitol Police officer. One of the comments on Twitter described it as "weaponized cuteness."
While the grown-ups had every incentive to be on their best behavior on Thursday, odds are the tentative truce will not survive past the day, and Washington, DC will return to the default state of partisan opprobrium.