Seriously, Homeland? Latest episode of US spy drama goes to 'Moscow'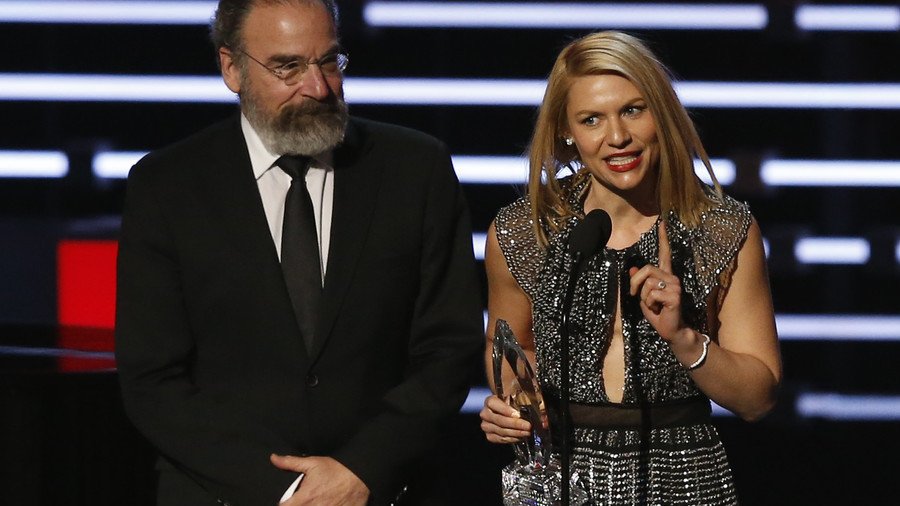 Hollywood has always drawn viewers in with Russian villains and scary plots of Kremlin deception. House of Cards, Scandal, Blacklist, Allegiance — you name it, they've all delighted their audiences with scary Russian villains.
But has the hit spy drama Homeland taken things too far?
The latest episode of the show takes place mostly in Moscow and sees the two lead characters, Carrie Mathison and Saul Berenson hatching a plot to retrieve Simone Martin, an undercover Russian agent who is in a romantic relationship with the White House chief of staff. Yeah, it gets weird.
Yevgeny Gromov is the baddy standing in the way of the plan. He is played by Costa Ronin, who also plays a Russian baddy on The Americans.
Anyway, the episode opens with Carrie and Saul's plane touching down in Moscow. The Americans are ostensibly on an "unscheduled diplomatic mission" but the viewer knows it's really a covert operation to grab Simone from under the Russians' noses. Cue the dramatic music.
As Carrie and Saul disembark from the plane, we see Yevgeny and another tough-looking Russian watching the Americans on a computer monitor — and that is precisely where any credibility that this could be Moscow ends.
From here on out, the show's attempts to make its Moscow scenes believable are futile. The first city scene shows the American delegation's motorcade pulling up outside the easily identifiable New York Cafe in Budapest, complete with an iconic yellow Budapest tram rolling past. In later scenes, popular Budapest tourist locations are shown clearly. It's almost an insult to the viewer — although the TV critics didn't seem to notice, so perhaps the production team were right not to bother trying too hard to make Moscow out of Budapest.
There is one meagre attempt to make the city look like Moscow. The Kremlin cathedrals are superimposed into the background of a scene on a rooftop where Carrie and Saul are speaking.
So, back to the plot. The Americans set up a diplomatic meeting in order to pull Yevgeny away from his dacha outside Moscow, where Simone is held. They send a team to retrieve her, but the pesky Russians are onto them. As soon as the American team lay their eyes on Simone they are ambushed by Russians. Mission failed.
Plan B. The Americans blackmail Artem Yakushin, yet another corrupt Russian (snooze fest) with $300 million tucked away in US bank accounts. They drain his accounts and force him to lead them to Simone. We're back in action.
Yakushin rallies a band of men and leads the Americans to the GRU building — the Russian army's intelligence agency. As they speed down the "Russian" streets, it's easy to spot road signs in Hungarian — and as the men drive through what is supposed to be central Moscow in the middle of the day, they meet almost no other cars — strange, for one of the busiest, most traffic-congested capitals in the world.
You'd think, with the amount of money that goes into producing Homeland, they might be able to photoshop the street signs on their supposed "Moscow" scenes. Instead, now we all know they were in Budapest. pic.twitter.com/qZZtPUoxoK

— Eliot Rothwell (@EliotRothwell) April 25, 2018
When they arrive at the GRU building, war breaks out between Russian foreign military intelligence officers, the CIA and Yakushin's thugs. Bullets and fists are flying. Terrified Russians are running for their lives. Just an average day in Moscow.
Meanwhile, back home in Washington, the newly-elected female president, Elizabeth Keane, is holding onto her job by a thread and is ultimately thrown out of office by the invocation of the 25th Amendment. It's like Homeland is mimicking the period of the Trump presidency just...without Trump.
The portrayal of Russia and Russians is cartoonish. The plot is unimaginative and seems to repeat a hackneyed Hollywood scenario. But we might know where it's coming from.
In 2014, the hack of Sony Pictures Entertainment revealed that the US State Department had sought out some of Hollywood's biggest players to help them with what they called "anti-Russia messaging" for the big and small screen. It looks like TV and movie producers were happy to oblige.
Oh — and it seems this 'Budapest as Moscow' thing is a trend. The recently released Red Sparrow, yet another Russian spy-focused movie, was also filmed in Budapest with zero effort to conceal the city's most iconic attractions.
Ran across the Red Sparrow trailer...they failed so miserably at disguising Budapest at Moscow! They literally showed the Gellért mountain and the Liberty statue from Budapest 😂

— Mike Kobela (@MikeTheKobbler) February 11, 2018
Danielle Ryan for RT.
You can share this story on social media: