All eyes on Arizona: GOP holds on to seat in special House election
Published time: 25 Apr, 2018 03:15
Edited time: 25 Apr, 2018 13:53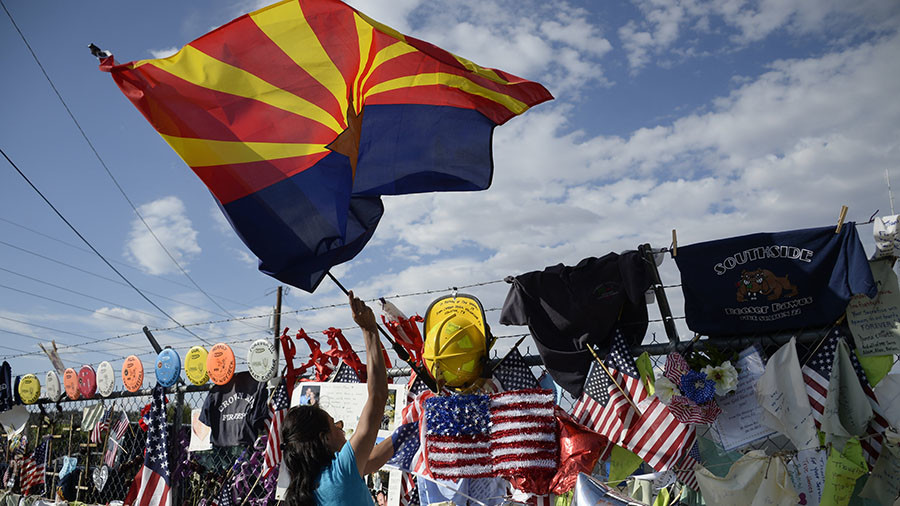 Republicans held on to a congressional seat in the Arizona special election, despite Democrats' hopes that a third upset in a row would boost momentum for a 'Blue Wave' in the November midterms.
Republican Debbie Lesko faced off against Democrat Hiral Tipirneni in a special election to replace Trent Franks, who served in the House of Representatives for 14 years until his resignation in December. Franks resigned, citing the "current cultural and media climate," after the House Ethics Committee opened a probe into claims that he offered a female staffer money to be a surrogate mother to his child.
Arizona's 8th congressional district, in the northwest suburbs of Phoenix, has traditionally leaned Republican. In 2016, Franks won with more than 68 percent of the total vote, and President Donald Trump carried the district by 21 points. Trump tweeted out his support for Lesko, a former state senator, on Tuesday morning.
Arizona, please get out today and vote @DebbieLesko for Congress in #AZ08. Strong on Border, Immigration and Crime. Great on the Military. Time is ticking down - get out and VOTE today. We need Debbie in Congress!

— Donald J. Trump (@realDonaldTrump) April 24, 2018
Most of the votes have already been cast in advance of Tuesday's in-person voting, the Maricopa County Recorder's office told NPR. Lesko was not taking anything for granted, however.
"The entire nation is looking at Arizona, because it's the only game in town right now," she told her supporters on Saturday, adding that Franks won easily "because nobody really challenged him."
Tipirneni, a physician whose family immigrated from India when she was three, told Newsweek that she was motivated to run for political office by Trump's victory in 2016. She received support from Emerge America, an organization that trains women on how to run for office as Democrats.
"One of the big reasons I decided to run is I'm so frustrated by the lack of forward progress, divisiveness and standing solely on a partisan [ground]," Tipirneni told Fox News.
Following the defeats in three special elections in 2017, Democrats scored a major upset victory in Alabama in December, with Doug Jones narrowly defeating Judge Roy Moore in a special election for the Senate seat formerly held by Attorney General Jeff Sessions. Last month, in the special election for Pennsylvania's 18th district, Democrat Conor Lamb edged out Republican Rick Saccone by less than 700 votes.
There are currently six vacant seats in the 435-member House of Representatives. The most recently vacated seat is Oklahoma's 1st district, whose Rep. Jim Bridenstine was sworn in as the new NASA administrator on Monday.
Voters in New York's 25th district have filed a lawsuit demanding a special election by June 26 and accusing Governor Andrew Cuomo (D) of "unnecessarily" delaying, denying or refusing the vote after the March 16 death of Rep. Louise Slaughter.
The governor of Texas has yet to decide whether to hold a special election to replace Rep. Blake Farenthold in the 27th district. The earliest such an election could take place is in September, just two months prior to the regular November midterms. Farenthold resigned earlier this month after it was revealed he used $84,000 of taxpayer money to settle a sexual harassment complaint.
Think your friends would be interested? Share this story!