Trump urges Mexico to stop illegal migration into US, says it may be condition for new NAFTA treaty
Published time: 23 Apr, 2018 16:01
Edited time: 22 Jun, 2018 15:02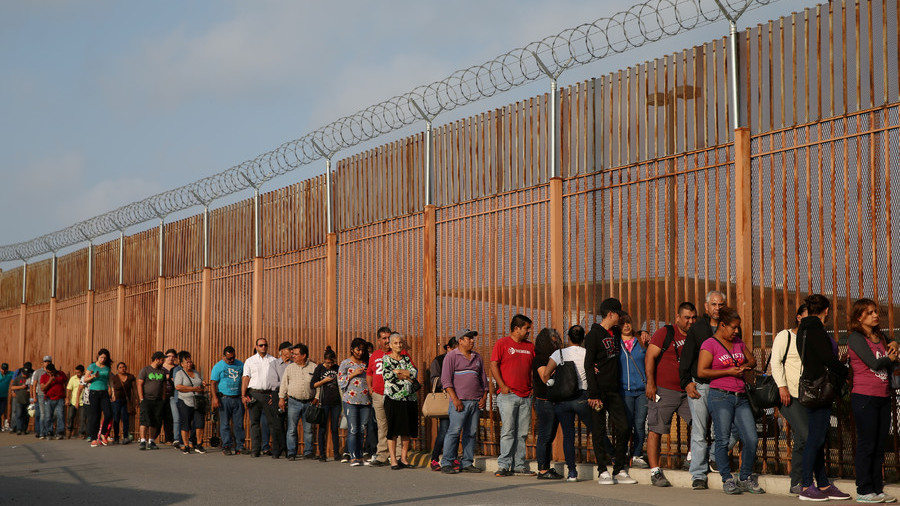 Mexico should make efforts to stop people from illegally entering the US through its territory, President Donald Trump said. He also said the US could place the obligation on Mexico as part of a new NAFTA accord.
"Mexico, whose laws on immigration are very tough, must stop people from going through Mexico and into the U.S. We may make this a condition of the new NAFTA Agreement. Our Country cannot accept what is happening!" Trump said in a Twitter post, referring to the North American Free Trade Agreement between the US, Canada, and Mexico, which he pledged to re-negotiate shortly after his election victory.
The US leader then once again said that the US "must get Wall funding fast" as Washington is still looking for funding sources for Trump's long-promised and costly border wall project. Earlier, he said that he instructed the secretary of Homeland Security not to let what he called "large caravans" of migrants into the US while criticizing the existing laws on sanctuary cities and the border. Trump denounced these laws, which he said were "inspired by Democrats," as "bad and one-sided."
Mexican Foreign Minister Luis Videgaray Caso said in response that his country would make decisions on its immigration policy in a "sovereign" manner. He also criticized Trump's plans to include a provision concerning immigration issues in the new NAFTA treaty, saying it is "unacceptable" to condition the re-negotiation of the agreement on some unrelated matters.
READ MORE: Trump accuses Mexico, Honduras & others of sending 'caravans' of illegals into US