Trump accuses Mexico, Honduras & others of sending 'caravans' of illegals into US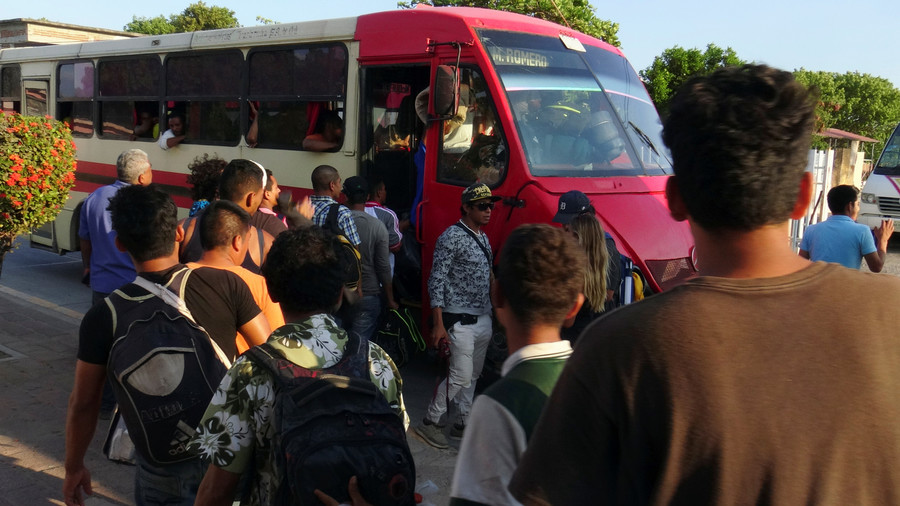 President Donald Trump has once again urged US lawmakers to immediately enact stricter immigration laws and build a wall on the southern border to prevent "caravans" of illegal immigrants from entering the US.
Over the past two days, Trump has been bombarding his Twitter followers with messages urging Congress to use the 'nuclear option' if necessary, in order to pass a law that would curb the flight of illegal immigration to the United States. The messages blaming Latin American countries for taking advantage of US immigration laws intensified on Monday.
"Honduras, Mexico and many other countries that the US is very generous to, sends many of their people to our country through our WEAK IMMIGRATION POLICIES," Trump tweeted Monday night. "Caravans are heading here. Must pass tough laws and build the WALL."
Monday night's Tweet was the latest in a series of messages Trump began posting on Easter Sunday, accusing Mexico of doing "very little, if not NOTHING" to prevent illegals from crossing into the US. While urging US lawmakers to reform the existing immigration practices, Trump called on the Mexican authorities to do more to halt the "caravans" of migrants coming from other Latin American countries.
"Mexico has the absolute power not to let these large 'Caravans' of people enter their country. They must stop them at their Northern Border, which they can do because their border laws work, not allow them to pass through into our country, which has no effective border laws," Trump said in a statement issued earlier in the day.
To beef up concern over border security, Trump unleashed a barrage of messages criticizing the "dumb immigration laws" in the US. "As ridiculous as it sounds, the laws of our country do not easily allow us to send those crossing our Southern Border back where they came from. A whole big wasted procedure must take place. Mexico & Canada have tough immigration laws, whereas ours are an Obama joke," Trump said in another tweet.
The Mexican Foreign Ministry rejected Trump's accusations, noting on Monday evening that caravans in southern Mexico are still subject to the administrative migratory procedure of the country. The ministry also rejected claims that it promotes illegal migration and noted that, ultimately, it is the US authorities that determine whether to allow the migrants into the United States.
"It will be the competent authorities of the United States that decide if it is the case, whether to authorize the entry to their territory of the caravan members," the ministry said, according to El Universal. The ministry also said it did not foster illegal migration "under any circumstances," as cited by Reuters.
Trump's warning about "caravans" of illegals marching towards the country's borders was accompanied by a tweet declaring that the Deferred Action for Childhood Arrivals (DACA) policy is "dead."
"DACA is dead because the Democrats didn't care or act, and now everyone wants to get onto the DACA bandwagon... No longer works. Must build Wall and secure our borders with proper Border legislation. Democrats want No Borders, hence drugs and crime!" the Republican president said.
'No more DACA deal!' Trump rules out legal status for childhood arrivals
After he considered blocking the bill, due to a lack of funding for the Mexican border wall and because 800,000 DACA immigrants aren't even mentioned in the legislation, Trump eventually signed the $1.3 trillion spending bill on March 23 to avoid a government shutdown. Trump, who tried to end the DACA program last September, allegedly wanted $25 billion in long-term wall funding in exchange for protection of the 'Dreamers.' While the bill allocated $1.6 billion for Mexican border security, the sum will not be enough to erect the 700 miles of the wall the US president has envisioned.
If you like this story, share it with a friend!
You can share this story on social media: