'No more DACA deal!' Trump rules out legal status for childhood arrivals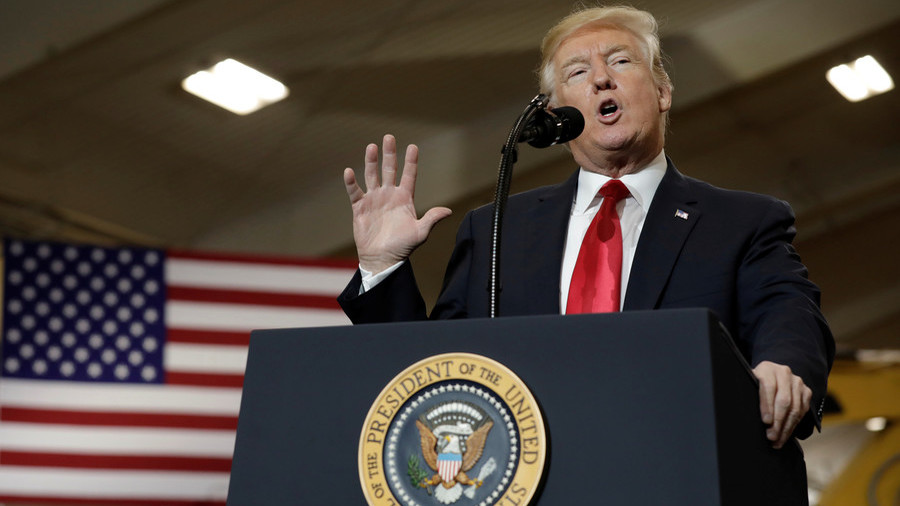 Donald Trump has said there will be no deal to give legal status to migrants who came to the US as minors. In a series of tweets on Sunday, he also told Republicans to take the "nuclear option" and eliminate the Senate filibuster.
READ MORE: Trump suggests American military may pay for US-Mexico border wall since it's now 'rich'
The US president began his tirade by claiming that catch-and-release laws are hindering efforts at border protection. Trump then attacked Mexico, saying the country was doing "very little, if not nothing" to stop migrants from other Central American countries from crossing its southern border on their way to the US. As punishment for their perceived inaction, Trump threatened to dismantle the North American Free Trade Agreement (NAFTA).
Border Patrol Agents are not allowed to properly do their job at the Border because of ridiculous liberal (Democrat) laws like Catch & Release. Getting more dangerous. "Caravans" coming. Republicans must go to Nuclear Option to pass tough laws NOW. NO MORE DACA DEAL!

— Donald J. Trump (@realDonaldTrump) April 1, 2018
Mexico is doing very little, if not NOTHING, at stopping people from flowing into Mexico through their Southern Border, and then into the U.S. They laugh at our dumb immigration laws. They must stop the big drug and people flows, or I will stop their cash cow, NAFTA. NEED WALL!

— Donald J. Trump (@realDonaldTrump) April 1, 2018
READ MORE: No deal, no steel: US trade envoy threatens to sink NAFTA
The billionaire property tycoon later claimed that "big flows" of people were trying to cross the border in time to take advantage of the Deferred Action for Childhood Arrivals (DACA) deal, a long-delayed piece of legislation designed to protect illegal immigrants who entered the country as children. "They want in on the act," he wrote.
These big flows of people are all trying to take advantage of DACA. They want in on the act!

— Donald J. Trump (@realDonaldTrump) April 1, 2018
Catch and release was the system that allowed people who were caught for entering the country illegally to go free while they awaited a hearing by an immigration judge. The policy ended under President George W. Bush in 2006 and was replaced by a policy in which illegal immigrants were either detained or returned to their own countries.
READ MORE: 'Patriotic and law-abiding': Democrat House leader slams arrests of illegal immigrants
Current Senate rules mandate that 60 senators – a near-two-thirds majority of the 100-member house – must agree in order to move forward to a vote on legislation. Trump has long called for an end to these rules, saying that he would like to see a simple 51-vote majority system.
Think your friends would be interested? Share this story!
You can share this story on social media: