Trump faces new lawsuit for locking up asylum seekers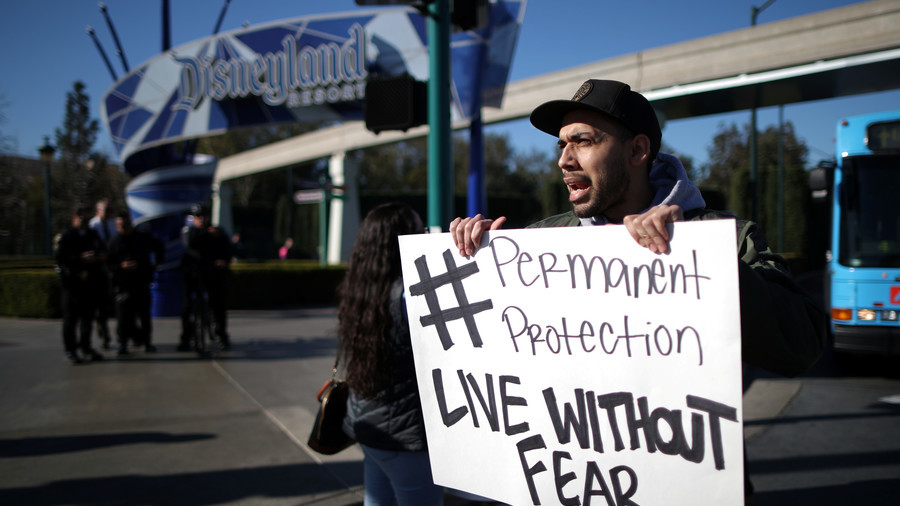 A civil rights group has filed a lawsuit accusing President Donald Trump's administration of illegally imprisoning asylum seekers. The group says the detentions violate the US Constitution and break immigration laws.
The American Civil Liberties Union (ACLU) filed the class action lawsuit on behalf of nine plaintiffs on Thursday. The group stated that Immigration and Customs Enforcement (ICE) is locking up asylum seekers in defiance of the Fifth Amendment, which prohibits the government from depriving any person, irrespective of citizenship, of their liberty without due legal process.
The lawsuit concerns ICE field offices in California, Michigan, New Jersey, New Mexico, Ohio, Pennsylvania, and Texas. One of the plaintiffs is Haitian asylum seeker Ansly Damus, who is said to be fleeing political persecution and faced threats to his life. He has been imprisoned in Ohio for more than 16 months while the government appeals his asylum case.
The ACLU also cites a 2009 Obama-era directive, which instructed ICE to grant 'humanitarian' parole to asylum seekers if they met certain requirements. Although the directive remains in place, "people are being illegally detained for months on end, even though they met the directive's requirements," the ACLU said.
One of our clients has not been allowed outside for more than a year.The Trump administration wants to make life so miserable for asylum seekers that they give up and return to their home countries, even at the risk of torture or death. #LibertyLockedUphttps://t.co/no8lWGUH88

— ACLU (@ACLU) 15 March 2018
In 2018, the rates of humanitarian parole were next to zero in these states, but in 2013 they granted 95 percent of applications, according to the ACLU.
Attorney General Jeff Sessions has previously said the asylum process has been "subject to rampant abuse and fraud."
The latest ACLU lawsuit is one of many launched against the Trump administration in recent months. In November 2017, a class action lawsuit was filed by a Los Angeles immigration advocacy group that claimed Trump's policies have led to immigration officers turning asylum seekers away at the US-Mexico border. The case is currently pending.
READ MORE: Asylum seekers 'systematically' turned away by border patrol – lawsuit
The Trump administration has pledged to take a tough line on immigration, rankling many Democrats and activist groups. In January 2018, the White House announced that it would limit the entry of asylum seekers from 11 Muslim-majority countries, in what has been termed by media pundits as a 'Muslim ban.'
At the time, Homeland Security Secretary Kirstjen Nielsen said that the restrictions "will make it harder for bad actors to exploit our refugee program."
Think your friends would be interested? Share this story!