Trump wanted to bomb Russian & Iranian targets amid Syria strikes – report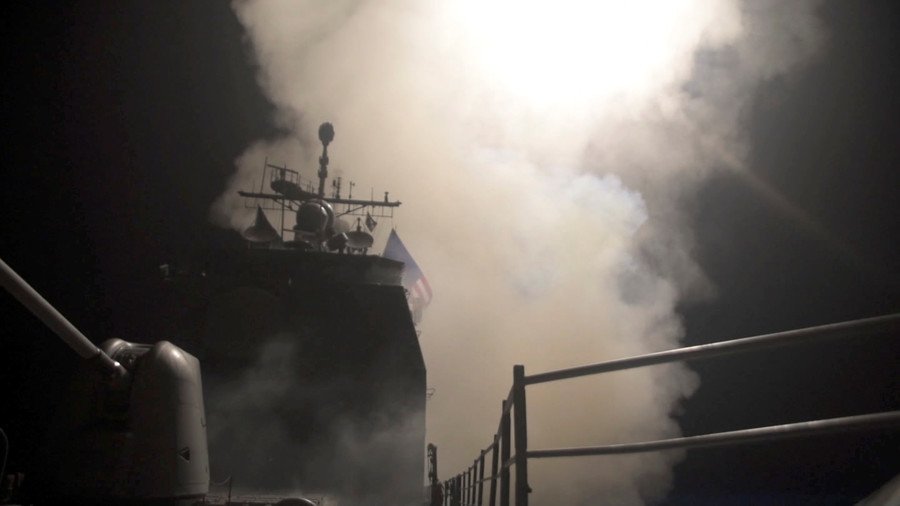 President Donald Trump reportedly favored bombing Russian and Iranian targets in Syria, before Pentagon chief James Mattis talked the US leader out of it.
Trump discussed three military options for Syria last week with his revamped national security team, led by Bush-era hawk John Bolton, the Wall Street Journal reported on Saturday, citing sources familiar with White House decision-making.
The least expansive option included striking "a narrow set of targets" linked to what the report said were "Syria's chemical weapons capabilities." The second option proposed targeting a broader set of Syrian targets, including "suspected chemical-weapons research facilities and military command centers."
Finally, the most aggressive proposal might have included bombing Russian air defenses in Syria, in order to "cripple the regime's military capabilities without touching [President Bashar] Assad's political machinery."
The latter option, which would have been three times as powerful as the one eventually carried out by the US, the UK and France, was reportedly particularly favored by Trump, pressing his team to consider strikes on Russian and Iranian targets in Syria. The US president was willing to go that far to "get at the Assad regime's military equipment."
Defense Secretary Mattis, a retired Marine general who gained notoriety during the 2004 siege of Fallujah in Iraq, took a more reasonable stance on the strikes. He argued that hitting Russian or Iranian targets could trigger a dangerous response from Moscow and Tehran, sources told the newspaper.
However, even newly-appointed National Security Adviser Bolton, who called for Iran to be bombed and who has promoted a muscular policy towards North Korea, did not oppose Mattis' reasoning. According to WSJ, he realized that "the most robust option might drag the US more deeply into the conflict" and felt "that was too much for his first week on the job."
Eventually, Trump approved a "hybrid plan" that saw over 100 missiles raining down on three Syrian targets early on Saturday morning. Announcing the strikes, Washington as well as London and Paris claimed they came in retaliation for an alleged chemical attack in the Damascus suburb of Douma, which they blamed on Assad's government. Damascus rejected the accusations, while Moscow maintained the chemical incident was orchestrated by the West to provoke the bombings.
Prior to the bombing, some senior Russian officials signaled Moscow was ready to repel inbound US missiles and target their carriers. On April 10, Vladimir Shamanov, formerly an Airborne Troops commander and now head of the State Duma Defense Committee, said the Americans "should not pin hope on their navy groups," adding Russia could "take all political and diplomatic measures, and also military measures if such need arises."
On April 11, Russian Ambassador to Lebanon Alexander Zasypkin warned that "Russian forces will confront any US aggression on Syria, by intercepting the missiles and striking their launch pads."
Repelling the missile strike, Syrian air defenses managed to shoot down 71 out of 103 projectiles, the Russian Defense Ministry said.
Syria's Soviet-made S-125, S-200, Buk, and Kvadrat systems were involved in the operation. The Pentagon, however, said Syrian resistance was ineffective and had no bearing on the aerial assault.
The attack was not coordinated with Russia, but "the de-confliction channel [between US and Russian forces] operated before and after the strike," said Lieutenant General Kenneth F. McKenzie, the director of the Joint Staff. "The Russian air defenses weren't employed" as Syria was hit by missiles, he added.
Like this story? Share it with a friend!
You can share this story on social media: